The foot ring on the left is plucking, the right one is not. Why?
These are translucent porcelains, they are vitreous. The firing is to cone 10. The one on the left is a cone 6 body, and, while it survives to cone 10 it does warp. But more important, it is much more vitreous (more melted). The plucking problem makes it quite difficult to get a good foot ring. The other, which has only slight plucking, is also quite vitreous (high in feldspar). The plucking problem on both can be solved by simply using a better kiln wash. What is better? More refractory, and therefore having a powdery, non-stick surface. Spend more money on your kiln wash, base it on calcined alumina or zircon.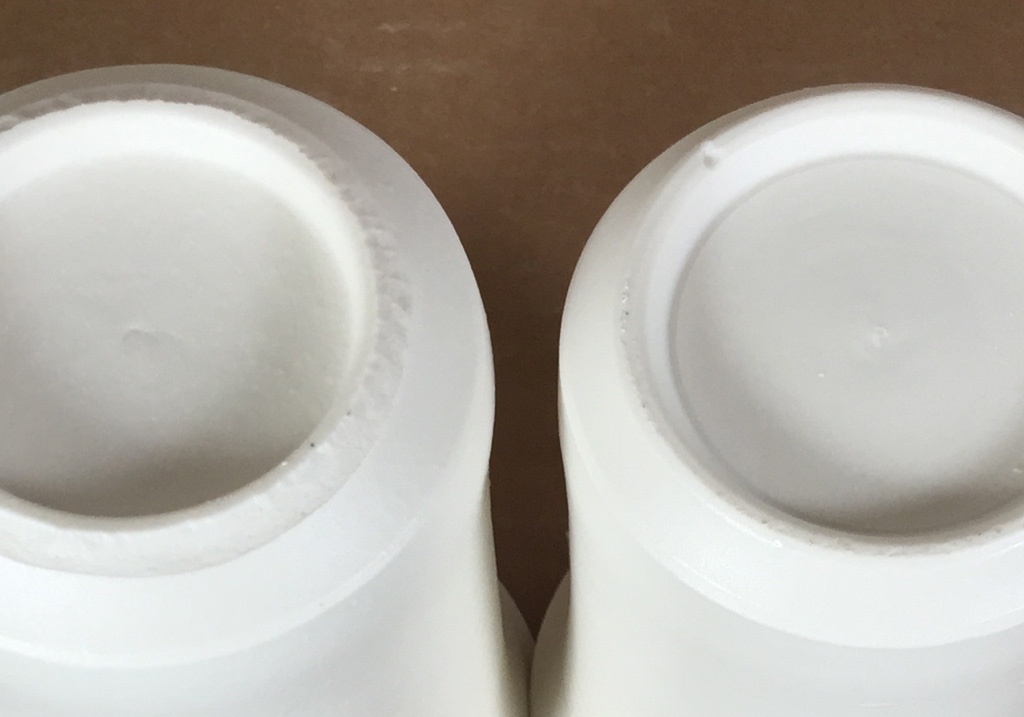 Related Pictures
Plucking on a vitreous porcelain at cone 6
Tap picture for full size and resolution
The mug on the left is made from a whiteware body (Plainsman M370), the one on the right is a highly vitreous translucent one (Plainsman Polar Ice). Both have been over-fired slightly. The Polar Ice mug has stuck to the shelf somewhat, taking chips out of the base on the outer perimeter of the bare porcelain (a fault called Plucking). If the shelf had been better dusted with alumina powder (or a kiln wash based on it) rather than a cheap kiln wash made from a kaolin:silica mix there would have been no problem.
Links