Fitting an engobe: It is about the data!
Physical data. Data about the working, drying and firing properties that can measured. These test bars show how stable this unusual terra cotta body, L4170B, is across a wide temperature range (from cone 8 down to 06)! Using the SBAB test procedure, I measured the shrinkage and porosity of each bar (and recorded the data in my Insight-live group account, it displays it like the black and red chart shown). I also made test bars of a super-white engobe, L3685Z3, and compiled the same data. That enabled two approaches to fitting engobe-to-body. First, isolate a temperature at which both have the same fired shrinkage, and are therefore compatible. Unfortunately there isn't one, the white engobe has much lower fired shrinkage at all practical temperatures! Option 2 is to add frit to the white engobe to make it as vitreous as the body. I started with a 5% addition of Ferro Frit 3110. At my target temperature, cone 02, that increased the shrinkage from 2.1% to 5.5% (this red body is 4.3%). So 5% frit is too much. So, the next move is clear, I will try 3% frit. It will only be necessary to test it at the one temperature. Because both engobe and body and not volatile, I am confident in just testing at cone 02.
Related Pictures
An incredibly white engobe on terra cotta that produces durable and decoratable low fire ware
Tap picture for full size and resolution
I found seven secrets with recipe, process, glaze and firing to make durable terra cotta.
1. A lot of Zircopax, in this case 20% (for whiteness, opacity).
2. The whitest burning materials: New Zealand Halloysite as the kaolin and nepheline syenite as the feldspar.
3. 3% Veegum to gel the slurry (enabling low specific gravity for thin and even coating).
4. The recipe, L3685Z2, has 55% kaolin, that will certainly produce drying cracks. But 1% CMC gum stops that and makes it brushable. It even works on on bisque, I pour-applied it to the insides of these two slip-cast pieces, it drained to perfectly even coverage (in a very thin layer).
5. A terra cotta casting/throwing body to fit the engobe to (has the same fired shrinkage at a target temperature, e.g. cone 04): Initially I am using L4170B.
6. A clear glaze that fits and is transparent: Notice how much whiter the left one is, G3879. At the same thickness as the G1916Q on the right, it is more transparent, better transmitting the white of the engobe.
7. The right firing curve: The 04DSDH drop-and-hold schedule for defect free surfaces.
Code numbers are the key to organizing your studio or lab
Tap picture for full size and resolution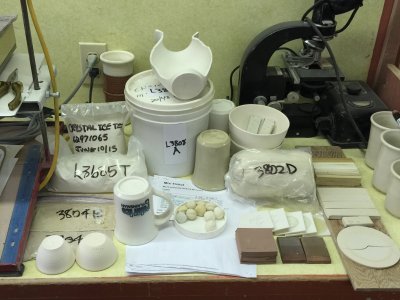 The new ceramics is about data! Everything here has a code number (in the form x1234) that members of our team can search in our group account at Insight-live.com. We write the numbers on the bottoms of pots, plastic bags of powders/liquids/pugged, buckets, glaze balls, mix tickets, test bars, tiles, glaze samples, drying tests, flow tests, sieve analyses, LOI/water content tests, etc. Glazed fired pieces can have up to three numbers, the body, engobe and glaze. If something is lacking a number it goes in the garbage because it teaches nothing and is therefore taking up pointless space.
How to decide what temperature to fire this terra cotta at?
Tap picture for full size and resolution
Let's suppose you need strength and density for utilitarian ware. These SHAB test bars characterize a terra cotta body, L4170B. While it has a wide firing range its "practical firing window" is much narrower than these fired bars and graph suggest. On paper, cone 5 hits zero porosity. And, in-hand, the bar feels like a porcelain. But ware will warp during firing and transparent glazes will be completely clouded with bubbles (when pieces are glazed inside and out). What about cone 3? Its numbers put it in stoneware territory, watertight. But decomposition gases still bubble glazes! Cone 2? Much better, it has below 4% porosity (any fitted glaze will make it water-tight), below 6% fired shrinkage, still very strong. But there are still issues: Accidental overfiring drastically darkens the color. Low-fire commercial glazes may not work at cone 2. How about cone 02? This is a sweet spot. This body has only 6% porosity (compared to the 11% of cone 04). Most low-fire cone 06-04 glazes are still fine at cone 02. And glaze bubble-clouding is minimal. What if you must fire this at cone 04? Pieces will be "sponges" with 11% porosity, shrinking only 2% (for low density, poor strength). There is another advantage of firing as high as possible: Glazes and engobes bond better. As an example of a low-fire transparent base that works fine on this up to cone 2: G1916Q.
Links