It dry shrinks much more yet cracks less. How is that possible?
Two mugs have dried. The local terra cotta native clay on the left shrinks 7.5% on drying, the porcelain one on the right only 6% (it is made using Kentucky ball clay). Yet few pieces of the terra cotta are ever lost due to drying cracks, even if it is uneven! For example, in a batch of a dozen mugs none of these will be lost whereas one or two of the white ones will always crack. Why? Dry strength. The clay on the left is very strong in the dry state, likely double or triple the white clay (the strength is a by product of its high plasticity and particle size distribution profile). That strength is enough to more than counter the extra shrinkage.
Related Pictures
How a kaolin and ball clay compare in a dry performance test
Tap picture for full size and resolution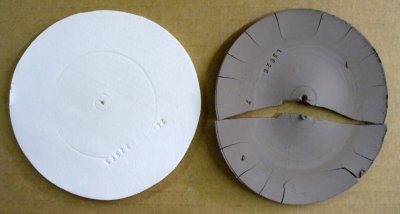 These are DFAC drying performance disks of a large-particle kaolin (Opticast) and a ball clay (Plainsman A2). The DFAC test displays a plastic clay's response to very uneven drying (these disks are dried with the center portion covered to set up a water content differential). These materials both feel super-smooth, in fact, the kaolin feels smoother. But the ultimate particles are ten to one hundred times smaller than kaolin, thus it shrinks much more. The ball clay also has much lower water permeability, being unable to channel water from the center protected portion fast enough. When the inner section finally dried the outer was already rigid so it split the disk in two and pulled all the edge cracks. Most ball clays shrink more and crack worse than this (cracks concentric to the center also appear). So why use ball clay? This kaolin is so lacking in plasticity it was barely possible to even make this disk. And it is so weak that it can easily break just by handling it. Still, it is useful to make casting bodies. But the ball clay, when used as a percentage of a body mix, can produce highly plastic bodies than can be dried without trouble if done evenly.
One reason why stoneware clays are more convenient
Tap picture for full size and resolution
Fewer drying cracks! These were all made at the same time and dried in the same way. Left: Three out of five porcelain mugs have cracked on the bottoms! Right: None of the stoneware ones have. Sometimes I feel as if those are "crying cracks" instead of "drying cracks". Of course, I could have been more careful with the porcelain. But I keep forgetting items on the "drying success checklist"! So, for production, it makes sense to use a stoneware if at all possible. I can make hundreds of mugs using the body on right, M340, and will not lose a single one!
Links