Glazes of the same chemistry: The fritted one melts better
Notes
It seems logical (and convenient) to just say that the kiln does not care what materials source the
oxides
in a glaze melt. Li
2
O, CaO, Al
2
O
3
, SiO
2
are oxides (there are about ten common ones). The kiln just melts everything and constructs the glaze from the ones available. Right? Wrong! Things get more complicated when
frits
are introduced. Frits are man-made glasses, they melt much more readily than raw materials like feldspar. Raw materials are often
crystalline
. Crystals put up a fuss when asked to melt, often holding on as long as they can and then suddenly melting. Frits soften over a range and they start melting early. To illustrate: These two glazes have the same chemistry. But the one on the left sources sodium and alumina (Na
2
O
3
, Al
2
O
3
) from the 48% feldspar present. The other sources these from a
frit
(only 30% is needed for the same amount of Na
2
O
3
). The remainder of the recipe has been juggled to match the other oxides. The frit version is crystallizing on cooling (further testament to how fluid the melt is). What has happened here is great. Why? First, the chemistry has not changed (fewer firing differences). The frit has no Al
2
O
3
, it is being sourced from kaolin instead, now the slurry does not settle like a rock. Even better, silica can be added until the
melt flow
matches (might be up to 20%). That will drop the
thermal expansion
and reduce
crazing
. The added SiO
2
will add resistance
leaching
and add
durability
. Frits are great! But you need to know how to incorporate them into a recipe using a little
glaze chemistry
.
A settling, running glaze recipe gets a makeover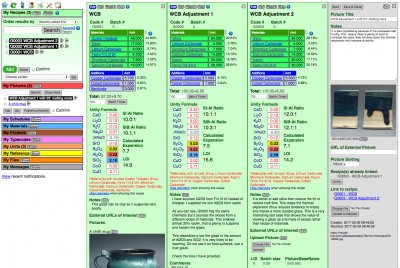 The original cone 6 recipe, WCB, fires to a beautiful brilliant deep blue green (shown in column 2 of this Insight-live screen-shot). But it is crazing and settling badly in the bucket. The crazing is because of high KNaO (potassium and sodium from the high feldspar). The settling is because there is almost no clay. Adjustment 1 (column 3) eliminates the feldspar and sources Al2O3 from kaolin and KNaO from Frit 3110. The chemistry of the new chemistry is very close. To make that happen the amounts of other materials had to be juggled (you can click on any material to see what oxides it contributes). But the fired test reveals that this one, although very similar, is melting more (because the frit releases its oxide more readily than feldspar). Adjustment 2 (column 4) proposes a 10-part silica addition (to supply more SiO2). SiO2 is the glass former, the more a glaze will accept, the better. Silica is refractory so the glaze will run less. It will also fire more durable and be more resistant to leaching.
Links
Glossary
Frit
Frits are used in ceramic glazes for a wide range of reasons. They are man-made materials of controlled chemistry with many advantages or raw materials.
Glossary
Glaze Chemistry
Glaze chemistry is the study of how the oxide chemistry of glazes relates to the way they fire. It accounts for color, surface, hardness, texturem, melting temperature, thermal expansion, etc.
---


Copyright 2008, 2015, 2017 https://digitalfire.com, All Rights Reserved