Add 5% calcium carbonate to a tenmoku. What happens?
In the glaze on the left (90% Ravenscrag Slip and 10% iron oxide) the iron is saturating the melt crystallizing out during cooling. GR10-K1, on the right, is the same glaze but with 5% added calcium carbonate. This addition is enough to keep most of the iron in solution through cooling, so it contributes to the super-gloss deep tenmoku effect instead of precipitating out.
Related Pictures
GR10-B Ravenscrag transparent glaze (with 10 talc)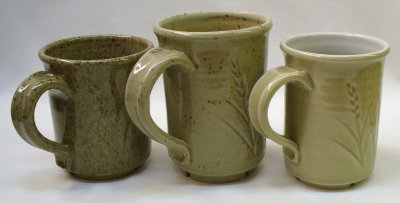 Because this glaze employs 10% dolomite instead of 10% calcium carbonate it has a lower thermal expansion and is less likely to craze. While the dolomite is contributing MgO, which normally mattes glazes, there is not enough to do it here.
Links
Oxides
CaO - Calcium Oxide, Calcia
Glossary
Flux
Fluxes are the reason we can fire clay bodies and glazes in common kilns, they make glazes melt and bodies vitrify at lower temperatures.
Glossary
Melt Fluidity
Ceramic glazes melt and flow according to their chemistry and mineralogy. Observing and measuring the nature and amount of flow is important in understanding them.
Glossary
Precipitation
Crystals or crystalline particles will often form over time in ceramic glaze slurries that contain slightly soluble materials.
Glossary
Tenmoku
Tenmoku is a kind of ceramic glaze. Glossy, very dark brown or maroon, edges crystalizing, firing at high temperature in reduction atmospheres.
Recipes
GR10-K1 - Ravenscrag Cone 10R Tenmoku
Plainsman Cone 10R Ravenscrag Slip based glaze. It can be found among others at http://ravenscrag.com.
---
---


https://digitalfire.com, All Rights Reserved
Privacy Policy