The perfect storm of high surface tension and high LOI: Blisters.
An example of how calcium carbonate can cause blistering as it decomposes during firing. This is a cone 6 Ferro Frit 3249 based transparent (G2867) with 15% calcium carbonate added (there is no blistering without it). Calcium carbonate has a very high loss on ignition (LOI) and for this glaze, the gases of its decomposition are coming out at the wrong time. While there likely exists a firing schedule that takes this into account and could mature it to a perfect surface, the glaze is high in MgO, it has a high surface tension. That is likely enabling bubbles to form and hold better.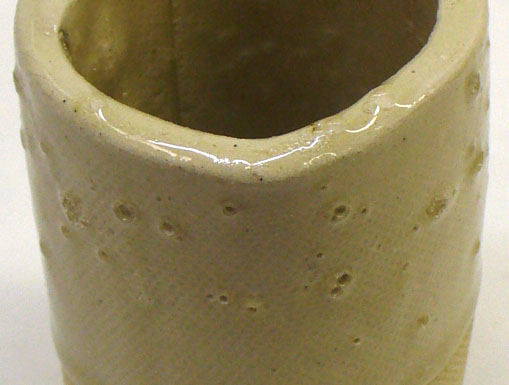 Related Pictures
Two transparents having opposite melt fluidity/surface tension balances
Tap picture for full size and resolution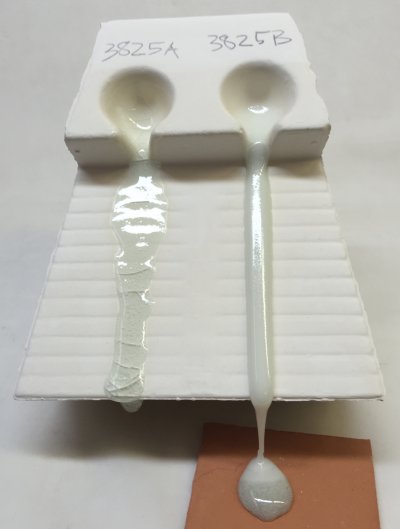 Low-fire glazes must be able to pass the bubbles they and the underlying bodies generate (or clouds of micro-bubbles will turn them white). This cone 04 flow tester makes it evident that 3825B has a higher melt fluidity (A has not even dripped onto the tile). And its higher surface tension is demonstrated by how the flow meets the runway at a perpendicular angle (it is also full of entrained micro-bubbles). Notice that A, by contrast, meanders down the runway, a broad, flat and relatively clear river. Low-fire glazes must pass many more bubbles than their high-temperature counterparts, the low surface tension of A aids that. A is Amaco LG-10. B is Crysanthos SG213 (Spectrum 700 behaves similarly, although flowing less). These two represent very different chemistry approaches to making a clear glaze. Which is better? Both have advantages and disadvantages.
Links