Same high-iron glaze. One crystallizes and the other does not. Why?
Both mugs use the same cone 6 oxidation high-iron (9%), high-boron, fluid melt glaze. Iron silicate crystals have completely invaded the surface of the one on the right, turning the gloss surface into a yellowy matte. Why? Multiple factors. This glaze does not contain enough iron to guarantee crystallization on cooling. When cooled quickly it fires the ultragloss near-black on the left. As cooling is slowed at some point the iron will begin to precipitate as small scattered golden crystals (sometimes called Teadust or Sparkles). As cooling slows further the number and size of these increases. Their maximum saturation is achieved on the discovery, usually by accident, of the exact temperature they form at (normally hundreds of degrees below the firing cone). Potters seek this type of glaze but industry avoids it because of difficulties with consistency.
Related Pictures
A cone 10R iron crystal glaze using only Ravenscrag Slip and Iron
Tap picture for full size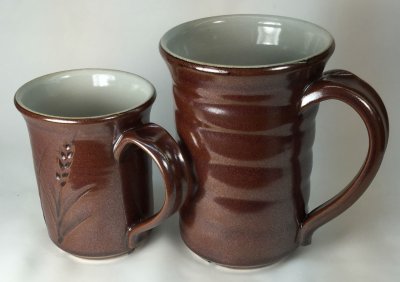 Ravenscrag Slip, by itself, produces a silky transparent glaze at cone 10R. It is an excellent base to which to add colorants and modifiers. This is a simple addition of 10% iron oxide (Ravenscrag Slip already contains 2% iron, making about 12% total Fe2O3). This GR10-L recipe produces a stunning crystalline fired surface on these two porcelains. This "beyond-tenmoku" effect happens because of the extra iron and a slow cooling rate. The 12% iron dissolves in the glaze melt during heatup in the firing, but during cooling, the extra 2% precipitates out to produce these surfaces. The iron also acts as a flux in reduction firing, greatly increasing melt fluidity. Take that last statement seriously: The iron is a flux and the glaze will melt much more (it can wreck your kiln shelves if it runs). That being said, Ravenscrag Slip is more melt stable than other bases, making it a more stable host for the iron addition.
Links