Same high-iron glaze. One crystallizes and the other does not. Why?
Both mugs have the same cone 6 oxidation high-iron (9%), high-boron, glossy glaze. Iron silicate crystals have completely invaded the surface of the one on the right, turning the near-black glossy into a yellowy matte. Why? Three things. It was slow-cooled and the other free-fall-cooled (firings done in the same kiln). The glaze has a fluid melt (it runs) and its percentage of iron is high enough that it could precipitate out from solution in the melt (given the time). Susceptible glazes have a temperature at which crystals form the best and that temperature can be hundreds of degrees down from the firing cone (or higher if precipitation is occurring). In industry, devitrification is regarded as a defect. But potters call it crystallization. Understanding (especially the chemistry and materials) and experimental firings are needed to learn to control and exploit the effect in a glaze.
Related Pictures
A cone 10R iron crystal glaze using only Ravenscrag Slip and Iron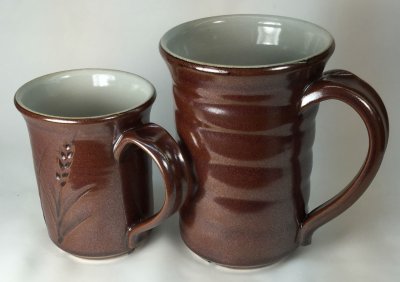 Ravenscrag Slip, by itself, produces a silky transparent glaze at cone 10R. It is an excellent base to which to add colorants and modifiers. This is a simple addition of 10% iron oxide (Ravenscrag Slip already contains 2% iron, making about 12% total Fe2O3). It produces a stunning crystalline fired surface on these two porcelains. We can call this a "Beyond-Tenmoku" (crystals happen because of more iron or a slow cooling rate than a Tenmoku). The 12% iron dissolves in the glaze melt during firing, but during cooling in the kiln, the extra 2% precipitates out to produce these surfaces. The iron also acts as a flux in reduction firing, greatly increasing melt fluidity. Take that last statement seriously: The iron is a flux, the glaze will melt much more. So just adding iron oxide to a glossy transparent will wreck your kiln shelves when it runs down off the ware. Ravenscrag Slip does not melt-to-glossy, it has just enough feldspar to fire to a durable surface, making it a more stable host for the iron addition.
Links
Glossary
Crystallization
Ceramic glazes form crystals on cooling if the chemistry is right and the rate of cool is slow enough to permit molecular movement to the preferred orientation.
Glossary
Glaze Chemistry
Glaze chemistry is the study of how the oxide chemistry of glazes relates to the way they fire. It accounts for color, surface, hardness, texturem, melting temperature, thermal expansion, etc.
Glossary
Melt Fluidity
Ceramic glazes melt and flow according to their chemistry and mineralogy. Observing and measuring the nature and amount of flow is important in understanding them.
Oxides
B2O3 - Boric Oxide
Oxides
Fe2O3 - Iron Oxide, Ferric Oxide
---
---


https://digitalfire.com, All Rights Reserved
Privacy Policy