When both mineralogy and chemistry are shown on a data sheet
Notes
Some material data sheets show both the oxide and mineralogical analyses. Dolomite, for example, is composed of calcium carbonate and magnesium carbonate minerals, these can be separated mechanically. Although this material participates in the glaze melt to source the MgO and CaO (which are oxides), it's
mineralogy
(the calcium and magnesium carbonates) specifically accounts for the unique way it decomposes and melts.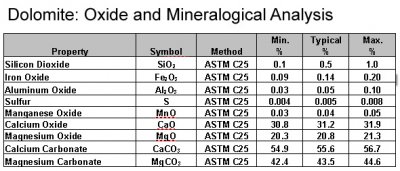 Links
Projects
Minerals
Projects
Materials
Minerals
Limestone, Calcium Carbonate
Minerals
Magnesite
Materials
Dolomite
Glossary
Ceramic Oxide
In glaze chemistry, the oxide is the basic unit of formulas and analyses. Knowledge of what materials supply an oxide and of how it affects the fired glass or glaze is a key to control.
Glossary
Mineralogy
Raw ceramic materials are minerals or mixtures of minerals. By taking the characteristics of these into account technicians can rationalize the application of glaze chemistry.
Glossary
Analysis
In ceramics, raw material chemistry is expressed as analyses. This is in contrast to fired glaze chemistries which are expressed as formulas.
Glossary
Ceramic Material
Ceramic materials are employed in the ceramic industry to make glazes, bodies, engobes and refractories. We study them at the mineral, chemical and physical levels.
---


Copyright 2008, 2015, 2017 https://digitalfire.com, All Rights Reserved