The magic of zircon in de-bubbling a glaze with stain addition
Notes
The cone 03
porcelain
cup on the left has 10% Cerdec
encapsulated stain
239416 in the
G2931K
clear base. The surface is orange-peeled because the glass is full of micro-bubbles that developed during the firing. Notice that the insides of the cups are crystal-clear, no
bubbles
. So here they are a direct product of the presence of the stain. The glaze on the right has even more stain, 15%. But it also has a 3% addition of zircon. Suppliers of
encapsulated stains
recommend a zircon addition, but are often unclear about why. Here is the reason, it is a "fining agent".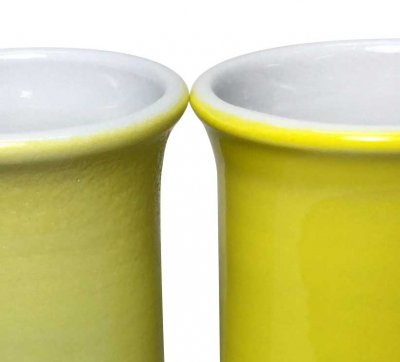 Links
Materials
Zircopax
Materials
Zircon
Glossary
Encapsulated Stains
This is a type of stain manufacture that enables the use of metal oxides (like cadmium) under temperature conditions in which they would normally fail.
Glossary
Glaze Bubbles
Suspended micro-bubbles in ceramic glazes affect their transparency and depth. Sometimes they add to to aesthetics. Often not. What causes them and what to do to remove them.
Glossary
Ceramic Stain
Ceramic stains are manufactured powders. They are used as an alternative to employing metal oxide powders and have many advantages.
---


Copyright 2008, 2015, 2017 https://digitalfire.com, All Rights Reserved