Zircopax
Notes
Zircopax is a generic brand name of zirconium silicate or zircon. It is primarily used in ceramic to opacify glazes. In North America, the most popular zirconium opacifiers fall under the brand names of Zircopax Plus, Superpax, Zircosil and Excelopax. These vary according to particle size, the finer the size the greater the scattering of light (and thus the better the opacification). In addition, the finer sized materials contain a little extra silica for maximum whiteness.

Of course, the amount of zircopax in a glaze determines the opacity. Small amounts (1-3%) may give no noticeable difference but are sometimes employed to improve glaze hardness. Since zircopax is refractory, the more that is added the more the degree of glaze melting (and melt viscosity) is going to be affected. Up to 15% or more might be needed to fully opacify a glaze. If higher amounts are needed the glaze formulation may need to be adjusted to reduce the amount of SiO2 or increase flux (to melt the glaze better).

Zircopax affects glaze melt viscosity, surface smoothness, thermal expansion and color development and can be implicated in a range of glazes faults associated with these. Please read the page on zircon for more information.

Zirconium prices are have increased rapidly in recent years, reflecting the world supply situation. Even though the material is very expensive, Zircopax is added to the body recipe of "porcellanato" tiles. It is a very effective body whitener, especially for casting porcelain. Excessive additions give the porcelain an artificial "white plastic" appearance.

Typical Properties:

Formula: ZrSio4 Weight: 183.1
Linear Coefficient of Expansion (25-700C cm/cm/degreeC): 42 x 10 -7
Specific gravity: 4.5

Particle Size: Zircopax Superpax Excelopax
Microns, Ave. 1.3 .74 .55
Bulk density lbs/cu ft 100 75 75
Surface area, m2/g 4.5 9.8 12.8

Related Information
Opacifying a reduction dolomite matte
Opacifying a cone 10 reduction magnesia matte glaze. On the left: G2571A dolomite matte, a popular recipe (from Tony Hansen). Right: 10% Zircopax has been added. Both are on a buff stoneware (H550 from Plainsman Clays).
Can you make things from zircopax? Yes.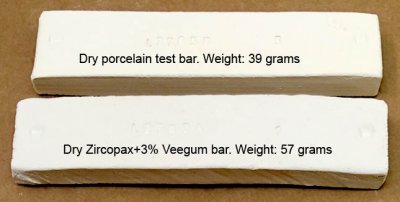 Only 3% Veegum will plasticize Zircopax (zirconium silicate) enough that you can form anything you want. It is even more responsive to plasticizers than calcined alumina is and it dries very dense and shrinkage is quite low. Zircon is very refractory (has a very high melting temperature) and has low thermal expansion, so it is useful for making many things (the low thermal expansion however does not necessarily mean it can withstand thermal shock well). Of course you will have to have a kiln capable of much higher temperatures than are typical for pottery or porcelain to sinter it well.
How do you turn a transparent glaze into a white?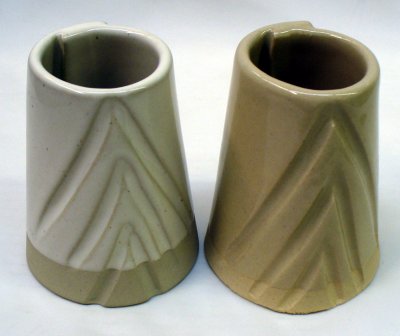 Right: Ravenscrag GR6-A transparent base glaze. Left: It has been opacified (turned opaque) by adding 10% Zircopax. This opacification mechanism can be transplanted into almost any transparent glaze. It can also be employed in colored transparents, it will convert their coloration to a pastel shade, lightening it. Zircon works well in oxidation and reduction. Tin oxide is another opacifier, it is much more expensive and only works in oxidation firing.
The action of Zircopax vs Tin Oxide at cone 10R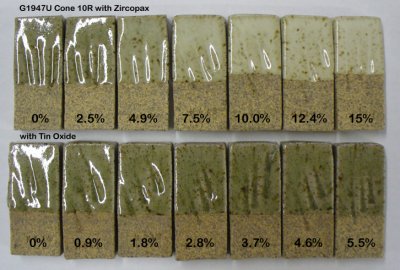 On Plainsman H443 iron stoneware in reduction firing. Notice Tin does not work. Also notice that between 7.5 and 10% Zircopax provides as much opacity as does 15% (Zircon is very expensive).
Adding an opacifier can produce cutlery marking!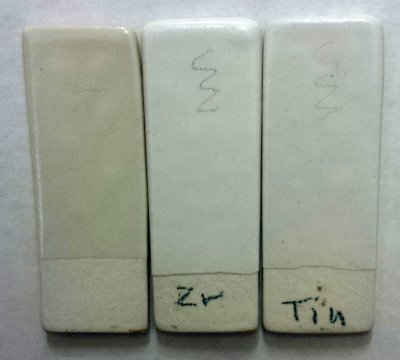 G2934 cone 6 matte (left) with 10% zircopax (center), 4% tin oxide (right). Although the cutlery marks clean off all of them, clearly the zircopax version has the worst problem and is the most difficult to clean. To make the best possible quality white it is wise to line blend in a glossy glaze to create a compromise between the most matteness possible yet a surface that does not mark or stain.
Can you throw zircopax on the potters wheel? Yes!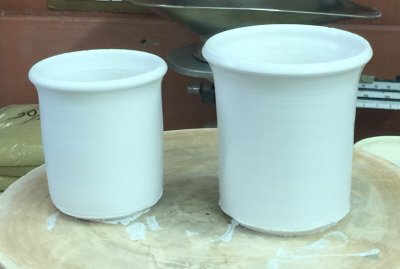 These crucibles are thrown from a mixture of 97% Zircopax (zirconium silicate) and 3% Veegum T. The consistency of the material is good for rolling and making tiles but is not quite plastic enough to throw very thin (so I would try 4% Veegum next time). It takes alot of time to dewater on a plaster bat. But, these are like nothing I could make from any other material. They are incredibly refractory (fired to cone 10 they look like bisqued porcelain). However I have had mixed results for thermal shock resistance.
Does Zircon only whiten and opacify a clear glaze? No.
This GLFL test for melt flow demonstrates how zircon opacifies but also stiffens a glaze melt at cone 6. Zircon also hardens many glazes, even if used in smaller amounts than will opacify.
Cutlery marking in commercial tableware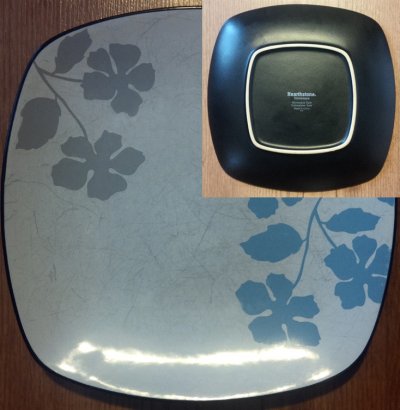 Even commercial dinnerware can suffer cutlery marking problems. This is a glossy glaze, yet has a severe case of this issue. Why? Likely the zircon opacifier grains are protruding from the surface and abrading metal that comes into contact with it.
Why is the glaze crawling on these tiles?
An example of crawling in a zircon opacified glaze on a tile. The immediate source of the problem is likely at the decoration stage. The water from the blue overglaze is rewetting the white under glaze, expanding and reshrinking it. This compromises the white glaze's bond with the body, resulting in cracking and lifting of the edges of the cracks. A number of things can be done to improve the situation: Adding a binder to the white glaze, reducing the clay content or using less plastic clays in its recipe, reducing the water content of the overglaze, heating the tiles before glazing and/or decorating so they dry faster and reducing the surface tension of the glaze melt.
How can you test if a different brand of tin oxide will work?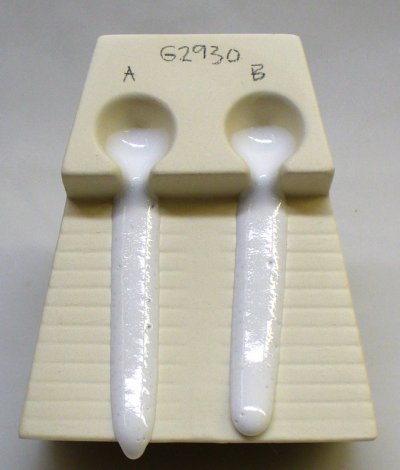 This is a melt fluidity test comparing two different tin oxides in a cone 6 transparent glaze (Perkins Clear 2). The length, character and color of the flow provide an excellent indication of how similar they are.
My first zircopax kiln shelf passed with flying colors
It is 5 mm thick (compared to the 17mm of the cordierite one). It weighs 650 grams (vs. 1700 grams). It will perform at any temperature that any kiln that I have will generate and far in excess of that. It is made from a plastic body having the recipe 80% Zircopax Plus, 16.5% 60-80 Molochite grog and 3.5% Veegum T. The body is plastic and easy to roll and had 4.2% drying shrinkage at 15.3% water. The shelf warped slightly during drying, so care is needed. First-firing at cone 4 yielded a firing shrinkage of 1%). Notice that cone on the shelf: It is not stuck so no kiln wash is needed! Zircopax is super refractory! It is held together by sinter bonding, so the higher the temperature you can fire to the stronger it will be.
3% and 2% zircopax added to G2926B cone 6 clear. Why?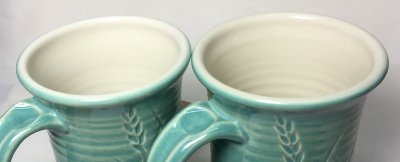 The outside glaze is a copper blue, but that is not the one we are interested in here. It is the clear glaze on the insides of these two identical cone 6 porcelain mugs. Why add such a small amount of zircon to it? It is not being added to opacify, it is being added to toughen the surface and reduce the thermal expansion.The presence of the 2% zircon has not affected the gloss or transparency of the glaze on the right. However the 3% on the left has opacified it just slightly and made the surface a little silky. So that is too much for this glaze (although it might be OK if the melt fluidity was higher). So, if you are interested in the most functional possible surface, consider a 2% zircon addition to your transparent.
The magic of zircon in de-bubbling a glaze with stain addition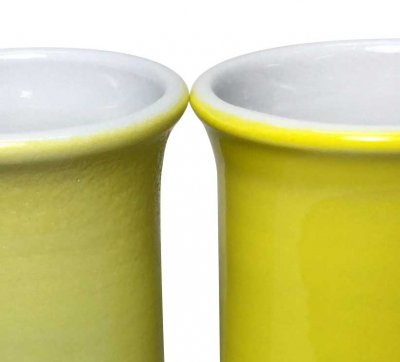 The cone 03 porcelain cup on the left has 10% Cerdec encapsulated stain 239416 in the G2931K clear base. The surface is orange-peeled because the glass is full of micro-bubbles that developed during the firing. Notice that the insides of the cups are crystal-clear, no bubbles. So here they are a direct product of the presence of the stain. The glaze on the right has even more stain, 15%. But it also has a 3% addition of zircon. Suppliers of encapsulated stains recommend a zircon addition, but are often unclear about why. Here is the reason, it is a "fining agent".
What would 10% zircon do in a cone 10R dolomite matte?
Left: An example of G2571A cone 10R magnesia matte. Right: with 10% added zircopax (zirconium silicate). The zircopax version is a very bright pasty white compared to the original.
Partially and fully opacified cone 6 G1214Z matte glaze
This is a calcium matte base (as opposed to the magnesia matte G2934). The clay is Plainsman M390. 5% Zircopax was added on the left (normally 10% or more is needed to get full opacity, the partially opaque effect highlight contours well). 5% tin oxide was added to the one on the right (tin is a more effective, albeit expensive opacifier in oxidation). The PLC6DS firing schedule was used.
Links
Data
| | |
| --- | --- |
| Frit Softening Point | 2550C |
Mechanisms
| | |
| --- | --- |
| Glaze Opacifier | Zirconium silicates are used primarily as opacifiers in glazes at all temperatures. Although tin oxide is more effective, zirconium materials are much cheaper and are more stable in reduction and less reactive with some colorants (i.e. chrome). Although zirconium oxide is effective as an opacifier, zirconium silicates disperse better and are cheaper where the glaze can tolerate or be reformulated to tolerate the added silica. |
By Tony Hansen

---
---


https://digitalfire.com, All Rights Reserved
Privacy Policy