Staining on a ceramic glaze with calcined alumina additions
The glaze is G2934 cone 6 matte base. Because it was not firing matte enough additions of 2, 4, 6 and 8% super fine calcined alumina were tested. Each addition made it progressively more matte. But with the mattness comes increasing susceptibility to cutlery marking and staining. To test the latter we marked each using a felt pen and then cleaned off the black ink using Acetone. The only one with noticeable staining is the 8% addition (the 6% addition has a slight stain also). The testing also showed no obvious cutlery marked on any of them. The results are reassuring since only 2% or less alumina is needed to achieve the degree of matteness desired so no danger of either problem is indicated. In addition, the integrity of the fired glass suggests that the alumina is dissolving in the melt - that means it is likely contributing to increased surface hardness and durability.
Related Pictures
What if G2934 fires too glossy, how can you increase matteness?
Tap picture for full size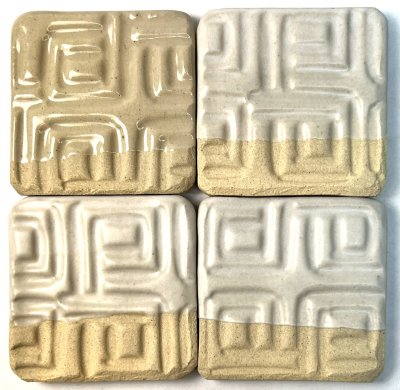 Typically the G2934 cone 6 MgO matte recipe fires with a surface that is too matte for functional ware (with cutlery marking and staining problems). This is intentional - it enables users to blend in a glossy base transparent to tune the degree of matteness. However, we have seen variation in the Ferro Frit 3124, serious enough that a recent production batch of glaze came out glossy (upper left in this picture)! This happened despite a C6DHSC slow cool firing. Shown here is a trial with additions of 4% calcined alumina (upper right) and 6 and 8% (bottom). All of these were too matte (1.5% turned up to be good). Although the slow-cool C6DHSC firing is the likely reason for the opacity here, opacity disruption still turned out to be a factor for stain additions (muting the colors slightly) even in faster cool firings. This is a testament to the critical chemistry balance that produces this matte surface. And the need to have adjustment options when inevitable variation occurs. Of course, it is important to use ultra-fine alumina (e.g. 400 mesh) to assure it will dissolve in the melt.
Links