How to keep an iron-red glaze from being a bucket-of-jelly
This is G2890C, a cone 6 iron red glaze. It was so gelled that it was unusable! First I measured specific gravity (with difficulty): 1.48. That's too high, so I added water to reduce it to 1.44. Then I dripped in Darvan 811 (as recommended for iron-containing slurries). I added it until adding more did not thin it further (more was needed than for deflocculating the average non-iron-containing slurry). But it was still gelled. The only choice was to add more water, taking the specific gravity down to 1.42. That made the difference, making the slurry thin enough for both better application and preventing it going on in too thick of a layer. But there is an even better solution: Use black iron oxide, no Darvan is even needed for that.
Related Pictures
The Iron-Red mechanism is working in one fluid melt base but not the other
Tap picture for full size and resolution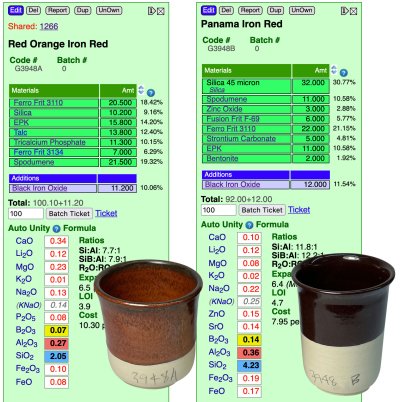 These two pieces were fired in the same kiln using the C6DHSC firing schedule. Fluid melts are an essential enabler of crystal growth during cooldown, that is what there are. Both contain significant Li2O to help the B2O3 achieve that fluid melt. Glaze #1, G3948A, has less iron than is typical yet works! Its high MgO/CaO are very likely key factors as to why. Glaze #2 has much more Na2O and it has both SrO and ZnO that #1 does not have. #2 is much higher in Al2O3 and has more than double the amount of SiO2. So which of all these factors is responsible for #2 having zero crystals? Very likely it is two important ones: The low CaO/MgO levels. And the high SiO2.
Links