Glossy Glaze
'Gloss' refers to how shiny and light-reflective a glaze is. Glazes high in glass former (SiO2, B2O3) are glossy. Those high in Al2O3 tend to be matte. Fluid glazes can crystallize to a matte surface if cooled slowly or a glossy surface if cooled quickly. The SiO2:Al2O3 ratio is taken as a general indicator of glaze gloss, ratios of more than 8:1 are likely to be glossy. In some industries, gloss is a more of a product of firing than chemistry. For example, a glaze may normally fire matte (by having a chemistry that crystallizes heavily on cooling, for example), but when super-cooled it will fire glossy.
Related Information
A secret to an ultra clear at low fire. Magnesia-alkali, low Si:Al ratio, more boron.
Tap picture for full size and resolution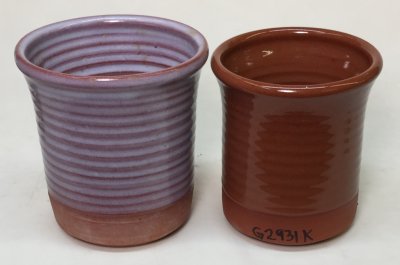 On the left is G2931J, a zinc alkali fluxed and high Si:Al ratio glaze. Those look like micro-bubbles but they are much more likely to be micro-crystals. High-zinc and high-silica is the mechanism for crystalline glazes, so it appears that is what they are. G2931K on the right has much more boron, double the Al2O3, less SiO2 and is magnesia-alkali instead of zinc-alkali. It is the product of dozens of tests to find an ultra-clear having a glassy smooth surface. This particular chemistry, although having only a 6:1 SiO2:Al2O3 ratio is ultra-gloss. In addition is has low expansion, will fast fire and the boron is not high enough to compromise the hardness.
This cone 6 black glaze looks glossy until placed beside the cone 04 one
Tap picture for full size and resolution
The cone 6 one is on the left, it contains about 25% frit. Both are colored using a black stain. That low fire glaze on the right has a high percentage of frit, likely more than 80%, that is the main reason for the beautiful surface. Frits are really fantastic, and standard practice in industry. However potters have been slow to adopt them, thinking they are more expensive. But from a "total cost" viewpoint, they are cheaper.
Links
By Tony Hansen
Follow me on

Got a Question?
Buy me a coffee and we can talk
---


https://digitalfire.com, All Rights Reserved
Privacy Policy