At 1550F Gerstley Borate suddenly shrinks! The melt fluidity ball tells us.
Notes
These
GBMF test
balls were fired at 1550F and were the same size to start. The Gerstley
Borate
has suddenly shrunk dramatically in the last 40 degrees (and will melt down flat within the next 50). The talc is still
refractory
, the Ferro
Frit
3124 slowly softens across a wide temperature range. The frit and Gerstley Borate are always fluxes, the talc is a
flux
under certain circumstances.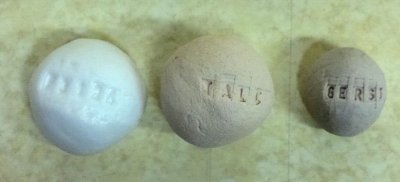 Links
Materials
Gerstley Borate
Materials
Gillespie Borate
Glossary
Flux
Fluxes are the reason we can fire clay bodies and glazes in common kilns, they make glazes melt and bodies vitrify at lower temperatures.
Glossary
Frit
Frits are used in ceramic glazes for a wide range of reasons. They are man-made materials of controlled chemistry with many advantages or raw materials.
Tests
Glaze Melt Fluidity - Ball Test
---


Copyright 2008, 2015, 2017 https://digitalfire.com, All Rights Reserved