The New 2020 Digitalfire Reference Library is Here
It has morphed into a webapp, reflexive and menu-driven (based on Twitter Bootstrap). It now employs permanent URLs. And pages have logical, and hierarchical URLs (e.g. digitalfire.com/oxide/cao, digitalfire.com/material/feldspar). It correctly forwards 5000+ old URLs. Terms from the glossary automatically hotlink throughout (as do code-numbers for recipes, tests and firing schedules). The search field in the menu bar is area-specific (or all-area at digitalfire.com/home). Still no ads and no tracking. The UI displays from server #1, it calls the database API on #2, the email system on #3, media from #4 and insight-live.com from server #5! So it is super fast, flexible and expandable. There are new areas (e.g. projects, pictures, typecodes). Media displays better. Every page still has a contact form, so you can ask any question anywhere. What till you see what's coming!
Related Pictures
Stuck at home with no ceramic supplies? Time to organize!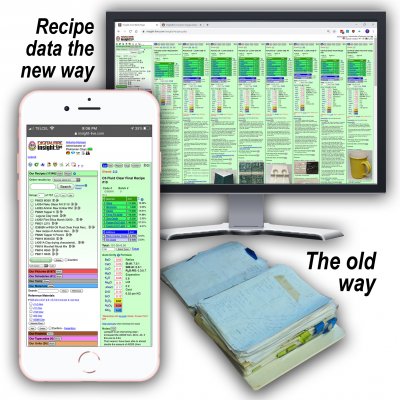 Are your records in a messy binder? You could be using an account at insight-live.com! Move your recipes first, assigning each a code number. Then, in your studio/lab, label every fired sample, bucket, jar, glaze test, bag with the corresponding code number. Put in pictures for each recipe. Enter your firing schedules. Research the solutions to issues you are facing with glazes at the Digitalfire Reference Library (ask us questions using the contact form on each of the thousands of pages there). Then start planning improvements and tests. Choose a recipe you need to improve/evolve, duplicate it, increment the code number, make changes, enter explanatory notes. With this preparation you will hit the ground running back at work.
Links
URLs
https://insight-live.com/index.php
Digitalfire Insight-Live
This is the software ceramic technicians need to study, understand, adjust and formulate glazes and clay bodies.
URLs
https://digitalfire.com/insight
INSIGHT Glaze Chemstry Software

Glossary
Tony Hansen
Tony Hansen is the author of Digitalfire Insight, Digitalfire Reference Library and Insight-Live.com, he is a long-time potter, ceramic lab-technician and body and glaze developer.
Glossary
Digitalfire Reference Library

Glossary
Insight-Live
A database website where potters and ceramic technician account holders enter their recipes, materials, pictures, test procedures, firing schedules, etc.
Glossary
Digitalfire Insight
A downloadable program for Windows, Mac, Linux for doing classic ceramic glaze chemistry. It has been used around the world since the early 1980s.
---
---


https://digitalfire.com, All Rights Reserved
Privacy Policy