URL: Digitalfire Insight-Live
Click the link below to go to this page
Related Information
The New 2020 Digitalfire Reference Library is Here
It has morphed into a webapp, reflexive and menu-driven (based on Twitter Bootstrap). It now employs permanent URLs. And pages have logical, and hierarchical URLs (e.g. digitalfire.com/oxide/cao, digitalfire.com/material/feldspar). It correctly forwards 5000+ old URLs. Terms from the glossary automatically hotlink throughout (as do code-numbers for recipes, tests and firing schedules). The search field in the menu bar is area-specific (or all-area at digitalfire.com/home). Still no ads and no tracking. The UI displays from server #1, it calls the database API on #2, the email system on #3, media from #4 and insight-live.com from server #5! So it is super fast, flexible and expandable. There are new areas (e.g. projects, pictures, typecodes). Media displays better. Every page still has a contact form, so you can ask any question anywhere. What till you see what's coming!
The unexpected reason for this crazing can be seen in the chemistry
This liner glaze is 10% calcium carbonate added to Ravenscrag slip. Ravenscrag Slip does not craze when used by itself as a glaze at cone 10R on this body, so why would adding a relatively low expansion flux like CaO make it craze? It does not craze when adding 10% talc. This is an excellent example of the value to looking at the chemistry (the three are shown side-by-side in my account at Insight-live.com). The added CaO pushes the very-low-expansion Al2O3 and SiO2 down by 30% (in the unity formula), so the much higher expansion of all the others drives the expansion of the whole way up. And talc? It contains SiO2, so the SiO2 is not driven down nearly as much. In addition, MgO has a much lower expansion than CaO does.
Compiling test bar shrinkage and weights for Insight-live
A batch of fired test bars, organized by temperature, have already been weighed (the weight is written on the side of each bar). Now they will be measured and the SHAB test data (shrinkage/absorption) entered into each recipe record (in an account at insight-live.com). From this data Insight-live can calculate fired shrinkage and fired porosity, enabling you to compare the degree of vitrification of different materials and bodies. This is especially good for quality control purposes.
The kaolin arrives on a semi of 880 bags. First step: Record the date code.
A shipment EP Kaolin has arrived for use in production of porcelain and stoneware bodies. Of course, this needs to be tested before being put into product. But how? The first step is to create a new recipe record in my Insight-Live account, and find their production date code stamp on the bag. Hmmm. It does not have one! OK, then I need to record the date on which we received it. We need to save a bag on every pallet and sieve 50 grams through 100 mesh (to spot contamination). Then we'll make test bars (of all the samples mixed) to fire across a range of temperatures (to compare fired maturity with past shipments). We do a drying performance disk also, it also shows soluble salts.
An example of a production log book that a ceramic industry worker keeps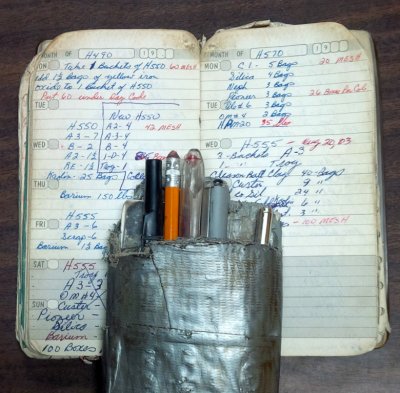 Unfortunately, it is in his pocket, not available to lab personnel. This could (should) be replaced by a group account at Insight-live.com.
Is this your record keeping system?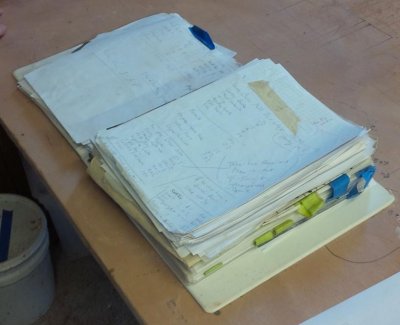 Keeping your valuable notes like this? Recipes? Test results? Are your pictures lost in a cellphone with no keywords or connections to anything? If you test and develop you need to organize in a way that a book cannot do. Like link recipes to each other and other things like pictures and firing schedules. You need to group test recipes in projects, classify them. Calculate chemistry and mix tickets. Research materials. Do keyword searches. Book and binder records do not do this. Your account at Insight-live.com does!
Fired clay test bars ready for measuring
SHAB (Shrinkage, Absorption) test bars ready to unload. These are measured for length after drying and firing and for weight after firing and boiling. This data is plugged into my account at insight-live.com and it calculates shrinkage and porosity numbers. If you fire bars of a clay to a range of temperatures you can characterize key properties of a clay very effectively.
Firing schedules at insight-live.com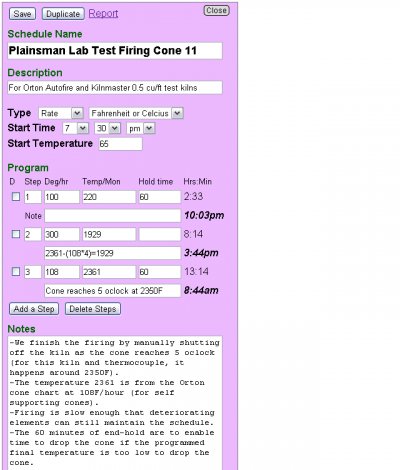 A cone 11 oxidation firing schedule used at Plainsman Clays (maintained in our account at insight-live.com). Using these schedules we can predict the end of a firing within 5-10 minutes at all temperatures. We can also link schedules to recipes and report a schedule so it can be taken to the kiln and used as a guide to enter the program.
How to get more accurate firings time after time
When we fire our two small lab test kilns we always include cones (we fire a dozen temperatures). I want the firing to finish when the cone is around 5-6 oclock. To make that happen I record observations on which to base the temperature I will program for the final step the next time. Where do I record these? In the schedules I maintain in our Insight-live.com group account. I use this every day, it is very important because we need accurate firings.
Lab testing a clay for its physical properties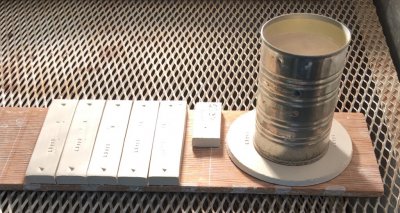 It only takes a few minutes to make these. But you would be amazed at how much information they can give you about a clay! These are SHAB test bars, an LDW test for water content and a DFAC test disk about to be put into a drier. The SHAB bars shrink during drying and firing, the length is measured at each stage. The LDW sample is weighed wet, dry and fired. The tin can prevents the inner portion of the DFAC disk from drying and this sets up stresses that cause it to crack. The nature of the cracking pattern and its magnitude are recorded as a Drying Factor. The numbers from all of these measurements are recorded in my account at Insight-live. It can present a complete physical properties report that calculates things like drying shrinkage, firing shrinkage, water content and LOI (from the measured values).
This is a key to organizing your studio, lab or teaching facility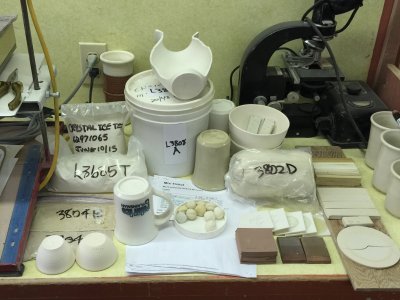 The new ceramics is about data! Everything here has a code number (in the form x1234) that members of our team can search in our group account at insight-live.com. We write the numbers on the bottoms of pots, plastic bags of powders/liquids/pugged, buckets, glaze balls, mix tickets, test bars, tiles, glaze samples, drying tests, flow tests, sieve analyses, LOI/water content tests, etc. Many pots have two numbers, the body and the glaze. If something is lacking a number it goes in the garbage because it teaches nothing and is therefore taking up pointless space.
What is the secret to cool and functional clay bodies and glazes?
The secret to cool and functional bodies and glazes is a lot of testing.
The secret to know what to test is material and chemistry knowledge.
The secret to learning from testing is documentation.
The place to document is an account at insight-live.com.

Fight the dragon with Insight-live
Fight the glaze dragon. Disorganized documentation of your testing? You are playing into his hands. Replace that notebook or binder with pictures, recipes, firing schedules, test results, material and more in your own or a group account at insight-live.com.
Identifying throwing tests of clay bodies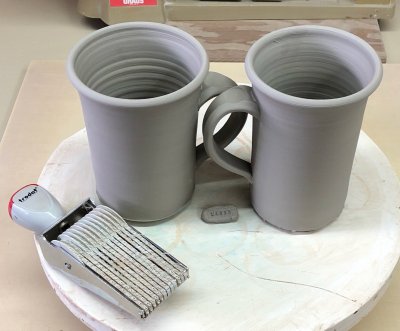 If you are doing testing, and everyone should be testing body and glaze variations, then your ware needs to be identified. Do that with a code number that cross references into your documentation in your account at Insight-live.com.
Colemanite and what its decrepitation does in glazes
Decrepitation refers to a decomposition accompanied by scaling, delayering, even disintegration of the glaze layer. Moving rightward these glazes have increasing percentages of colemanite. At its worst (far right) the glaze is spattering off the sample and onto the kiln shelf. The others are crawling, first pulling away from the corners (far left) moving toward pulling away on the flat surfaces (center). Gerstley Borate and Ulexite, similar minerals, are far less likely to do this (but they have other serious issues also). A much better solution is to use frits to source the oxide B2O3 (easy to do in your account at Insight-live.com). Photos courtesy of Nigel Hicken.
Never do ceramic body or glaze testing without code numbers
That is how you know what it is. The recipe. The firing schedule. The pictures. The notes. The project it was in, information about what came before it and what developed from it. These mugs and that test bar are the same clay, I am doing a preliminary tests on a new material from our quarry, it is called "Battle Clay". This code number identifies all my records regarding this test mix in my insight-live.com account. In future I can identify the specimens from my records and my records from the code-numbered specimens.
Commercial glazes on decorative surfaces, your own on food surfaces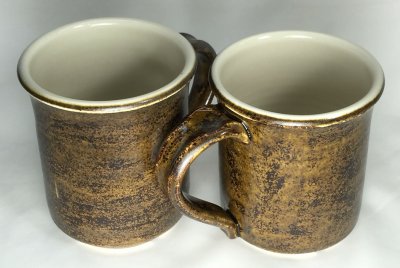 These cone 6 porcelain mugs are hybrid. Three coats of a commercial glaze painted on outside (Amaco PC-30) and my own liner glaze poured in and out on the inside (G2926B). When commercial glazes (made by one company) fit a stoneware or porcelain (made by another company), without crazing or shivering, it is purely an accident! So use them on the outside. But for inside food surfaces make or mix your own. When you know the recipe you can tune the thermal expansion. And the degree of melt. And the application properties. And you can use quality materials to source a balanced chemistry. The place to start understanding your glazes, organize testing and development and document everything is an account at Insight-live.com.
A limit or target glaze formula. What does this mean?
Recipes show us the materials in a the glaze powder (or slurry). Formulas enumerate the oxide molecules and their comparative quantities in the fired glass. Oxides construct the fired glass. The kiln de-constructs ceramic materials to get their oxides, discards the carbon, sulfur, etc. and builds the glass from the rest. There is a direct relationship between fired glaze properties (e.g. melting range, gloss, thermal expansion, hardness, durability, color response, etc) and its oxide formula. There are 8-10 oxides to know about (vs. hundreds of materials). From the formula-viewpoint materials are thus "sources-of-oxides". While there are other factors besides pure chemistry that determine how a glaze fires, none is as important. Insight-live can calculate and show the formula of a recipe, this enables comparing it side-by-side and with a target formula (or another recipe known to work as needed). Target formulas are opened using the advanced recipe search, choosing the limits batch and clicking/tapping the search button (search 'target recipe' in Insight-live help for more info).
We fight the dragon that others do not even see
There are thousands of ceramic glaze recipes floating around the internet. People dream of finding that perfect one, but they often only think about the visual appearance, not of the usability, function, safety, cost or materials. That resistance to understanding your materials and glazes and learning to take control is what we personify as the dragon. Using the resources on this site you could be fixing, adjusting, testing, formulating your own glaze recipes. Start with your own account at insight-live.com.
Global supply chain issues? Learn to mix and adjust your own bodies, glazes
Material prices are sky rocketing. And, the more complex your supplier's supply chain the more likely they won't be able to deliver. How can you adapt to coming disruption, even turn it into a benefit? Learn to create base recipes for your glazes and even clay bodies. Learn now how to substitute frits and other materials in glazes (get the chemistry of frits you use now so you are ready). Even better: Learn to see your glaze as an oxide formula. Then calculate formula-to-batch to use whatever materials you can get. Learn how to adjust glazes for thermal expansion, temperature, surface, color, etc. And your clay bodies? Develop an organized physical testing regimen now to accumulate data on their properties, learn to understand how each material in the recipe contributes to those properties. Armed with that data you will be able to adjust recipes to adapt to changing supplies.
Links
Glossary
Insight-Live
A database website where potters and ceramic technician account holders enter their recipes, materials, pictures, test procedures, firing schedules, etc.
Glossary
Glaze fit
In ceramics, glaze fit refers to the thermal expansion compatibility between glaze and clay body. When the fit is not good the glaze forms a crack pattern or flakes off on contours.
Articles
Changing Our View of Glazes
A big secret to getting control of glazes is to begin looking at them as formulas of oxides rather than recipes of materials.
---
---


https://digitalfire.com, All Rights Reserved
Privacy Policy