Yikes. Cutlery marking this bad on a popular glaze!
Notes
An example of how a spoon can cutlery mark a glaze. This is a popular middle temperature recipe used by potters. The
mechanism
of its matteness is a high percentage of zinc oxide that creates a well-melted glaze that fosters the growth of a mesh of surface micro-crystals. However these crystals create tiny angular protrusions that abrade metal, leaving a mark. Notice the other matte flow on the left (G2934), it not only has a better surface (more silky feel) but also melts much less (its mechanism is high MgO in a
boron
fluxed base). It is does not cutlery mark at all!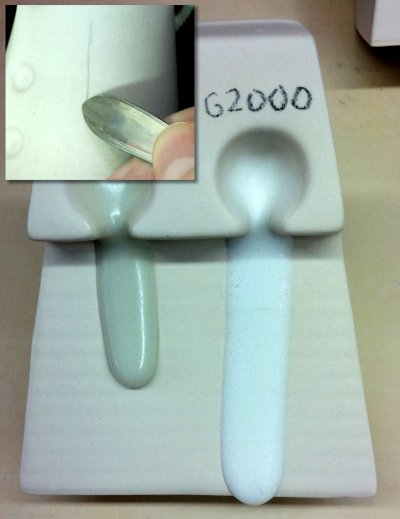 Links
Glossary
Glaze Recipes
Stop! Think! Do not get addicted to the trafficking in online glaze recipes. Learn how they work. Understand them. Then make your own or adjust/adapt what you find online.
Glossary
Cutlery Marking
Ceramic glazes that mark from cutlery are either not properly melted (lack flux), melted too much (lacking SiO2 and Al2O3), or have a micro-abrasive surface that abrades metal from cutlery.
Recipes
G2934 - Matte Glaze Base for Cone 6
A base MgO matte glaze recipe fires to a hard utilitarian surface and has very good working properties. Blend in the glossy if it is too matte.
Oxides
ZnO - Zinc Oxide
---


Copyright 2008, 2015, 2017 https://digitalfire.com, All Rights Reserved