Specific gravity using a scale and measuring cup
The specific gravity of a glaze slurry is simply its weight compared to water. Different glazes optimize to different specific gravities, but 1.4 to 1.5 is typical (highly fritted glaze are higher). To measure, counter-weigh a plastic measuring cup on your scale and fill it with 500 grams of water and note how high the water fills it (hopefully to the 500cc mark!). Fill the container with your glaze to the same place. Divide its weight by the number of ccs (in this case, 500) and you have the specific gravity. The more you weigh the more accurate is the test.
Related Pictures
Measuring glaze slurry specific gravity
Tap picture for full size and resolution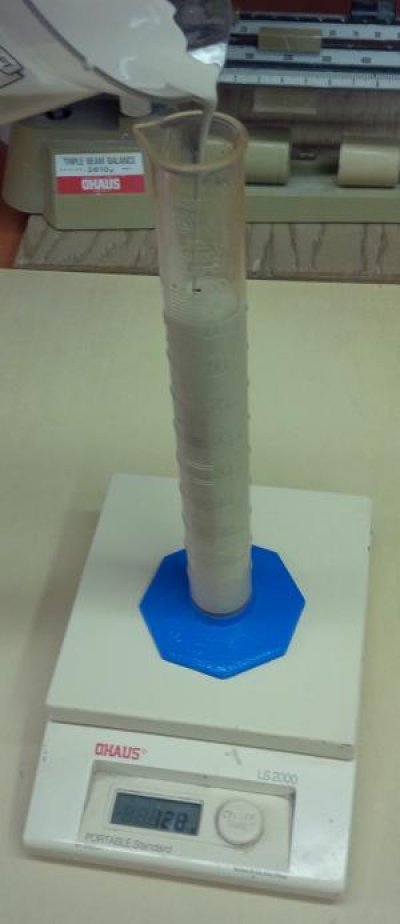 This is the easiest way to measure the specific gravity of a glaze if it is not in a container deep enough to float a hydrometer (or if it is too viscous to enable free movement). Just counterbalance the empty graduated cylinder to zero (you can buy these at amazon.com), fill it to the 100cc mark and the scale reading divided by 100 is the specific gravity. Be careful on cheap plastic graduated cylinders like this, check them with water and mark the true 100cc mark if needed. You could actually use any container, just fill it with water and mark the level, then fill to the same level with slurry and divide the slurry weight by water weight.
Links