Are frits partially soluble? Yes, many are.
These 1 mm-sized crystals were found precipitated in a couple of gallons of glaze containing 85% Ferro Frit 3195. They are cubical, hard and insoluble. Why and how to do they form? Many frits are slightly partially soluble and the degree to which they are are related to the length of time the glaze is in storage, the temperature, the electrolytes and solubles in the water and interactions with other material particles present. The solute then interacts with other materials particles to form insoluble species that crystallize and precipitate out as you see here. These crystals can be a wide range of shapes and sizes and come from leaded and unleaded frits.
Related Pictures
A glaze slurry precipitates flakes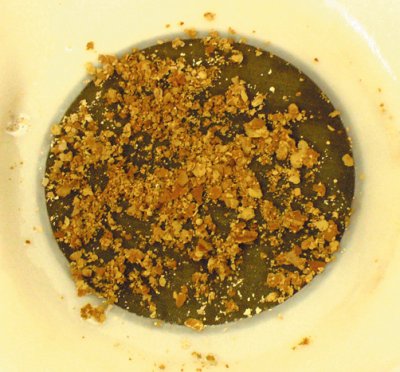 These flakes have been screened from a highly-fritted boron glaze mixed using hard water and stored for a year. They formed as a film across the top of the settled surface and on the walls of the bucket. Frits are stoichiometric, they should not dissollve, but they do. Perhaps this is evidence that frit makers are unable to precisely control production parameters.
Precipitate can forms in fritted glazes, remember to screen it
Potters often store glazes for long periods so tiny spherical precipitate particles can form. These were found in a months-old bucket of G2926B (M370 clear) cone 6 clear glaze (about 2 gallons). These can appear over time, depending on factors like temperature, electrolytes in your water or solubility in the materials (likely, the frit is slightly soluble). The glaze slurry should be screened periodically (or immediately if you note the particles when glazing a piece). This is an 80 mesh screen. Note the brush, using one of these gets the glaze through the screen much quicker than using a rubber spatula.
Precipitated crystals from a glaze having 60% lead bisilicate frit
It also contains less than 10% borax frit and some Cornwall stone.
G2925B glaze can precipitate crystals like this over time
If this happens you need to screen it. There is nothing unusual in the recipe, this can happen to any glaze that contains frits or other slightly soluble materials.
Links