A Limitation of the Seger Unity Formula
Notes
Mineral sources of oxides impose their own melting patterns and when one is substituted for another to supply an oxide a different system with its own relative chemistry is entered. An extreme example of this would be to source Al
2
O
3
to a glaze using calcined alumina instead of kaolin. Although the
formula
may be exactly the same, the fired result would be completely different because very little of the alumina would dissolve into the glaze melt. At the opposite extreme, a different
frit
could be used to supply a set of oxides (while maintaining the overall chemistry of the glaze) and the fired result would be much more chemically predictable. Why? Because the readily and release their oxides the the melt.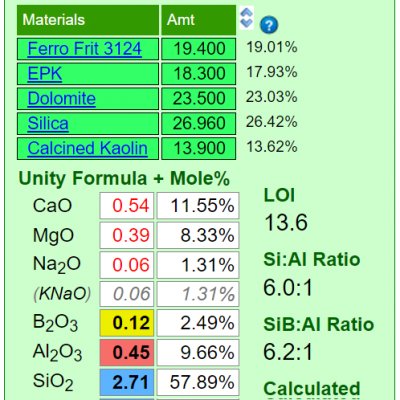 Links
Glossary
Formula
In ceramics, the chemistry of a glazes are expressed as formulas of oxides. There are direct links between the oxide chemistry and the fired physical properties.
Glossary
Unity Formula
The chemistry of ceramic glazes are normally expressed as formulas. A unity formula has been retotaled to make the numbers of flux oxides total one.
Glossary
Limit Formula
A way of establishing guideline for each oxide in the chemistry for different ceramic glaze types. Understanding the roles of each oxide and the limits of this approach are a key to effectively using these guidelines.
Glossary
Mole%
Mole% is a way of expressing the oxide formula of a fired glaze or glass. It is a preferred over the formula by many technicians who use glaze or glass chemistry.
Glossary
Analysis
In ceramics, raw material chemistry is expressed as analyses. This is in contrast to fired glaze chemistries which are expressed as formulas.
Glossary
Glaze Chemistry
Glaze chemistry is the study of how the oxide chemistry of glazes relates to the way they fire. It accounts for color, surface, hardness, texturem, melting temperature, thermal expansion, etc.
---


Copyright 2008, 2015, 2017 https://digitalfire.com, All Rights Reserved