Why would I use a heavily pigmented black glaze on a food surface?
These are actually two different cone 6 base glazes to which I add a black stain. I trust them because I formulated and perfected them myself: G2926B clear and GA6-B Alberta Slip base. They are durable, fit my clay bodies, melt well yet can host a stain without loss of gloss. I even know the chemistry, both have plenty of SiO2 and Al2O3, that is a hallmark of durability. I fired these using the PLC6DS schedule. I add 5% black stain to the former and 4% to the latter, both yield a jet-black. The GA6-B requires ball milling. Stains are inherently much safer to use than raw metal oxide colorants because they are sintered as colorant/stabilizer blends. And much less is needed. Contrast that with raw metal oxides, it is common to find black recipes containing up to 15% of blends of nickel, cobalt, iron and manganese! At times the manganese alone can be 8% or more! So, I feel relatively safe using these coloured glazes on a surface that will be exposed to hot and acidic liquids.
Related Pictures
Two methods to make your own low SG brushing glaze.
Tap picture for full size and resolution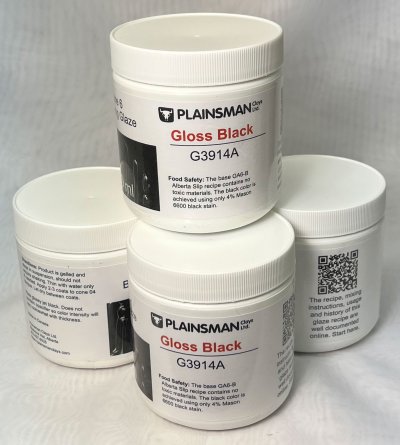 Dipping glaze applies and dries in seconds. Brushing glazes dry slowly and dry hard. Brushing glazes simply have gum in the recipe, dipping glazes typically do not. This is the Alberta Slip cone 6 base, made jet black with 4% black ceramic stain (our code G3914A). We normally mix this as a dipping glaze but I have made a 500ml jar of low SG brushing version using both of the following methods. These methods will work for almost any glaze recipe (for those having exceptionally high clay content less Veegum is needed). 1) Shake together, in a plastic bag, 340g of mixed glaze powder with 5g of Veegum and 5g of CMC gum. Add that to 440g of water in a kitchen blender and mix on high speed until it gels (the gums resist mixing so the highest speed for at least 30 seconds is needed to prevent lumps). 2) Take 680g of dipping glaze (assuming it is about 50:50 water:powder you get 340g of dry), put that in the blender with another 80g of water and proceed as in method 1. Less total water is being used because the dipping glaze might not be exactly 50:50 water:powder. During mixing, if it gels too much add the extra 20g of water. This is so exciting that I make fancy labels, they are just ink-jetted onto regular paper, cut 62mm wide (2 7/16") and held securely on with 2 7/8" transparent packing tape.
It is possible to spot a leaching glaze just by looking at it!
Tap picture for full size and resolution
This glaze looks too matte, too metallic, too crystalline. This picture was sent to me by a worried person who had bought it and noticed it discolouring on the inside. The potter may very well have considered this safe just because it was fired to cone 10. It is common among potters to overload glazes with raw metal oxide blends, often 15% or more (e.g. manganese, copper, iron, nickel, cobalt). These percentages cannot be held in solution in the melt as it cools and solidifies, so they precipitate out and crystallize, especially if the glaze is not melting well or has insufficient SiO2. The crystalline forms of these metals might look nice to some people, but the glaze is likely to leach them. It is better to use a ceramic stain to create a black like this, adding it to a stable matte base glaze (one that melts well and has sufficient SiO2 and Al2O3 to create a durable glass). The concept of a limit recipe is helpful in eyeballing recipes for their likelihood of leaching.
Two black cone 6 glazes recipes. One leaches metals. Why?
Tap picture for full size and resolution
We tested susceptibility to leaching of a stained glaze (top two) and another colored with raw metal oxides (bottom two) using the GLLE test (they were left overnight in vinegar and lemon juice). The top two are G3914A (GA6-B Alberta Slip base with an addition of only 4% Mason 6600 black stain). There is no sign of leaching (Drano and bleach likewise did not affect it). The bottom two are G2926B transparent with 10% manganese dioxide and 5% copper oxide added (a common way to get black). The G2926B transparent base is proven, its surface shows no signs of gloss-loss in any testing we have done. But with manganese and copper added it is a very different story. Not only was this not nearly as black, but the vinegar and lemon juice matted and blued the top sections. Obviously, a ceramic stain added to the Alberta Slip GA6-B base is a far better way to make a leach-resistant black. Is it better than adding the black stain to G2926B? Yes, because far less is needed since the GA6-B base already has plenty of pigmentation.
Links