This mug has waterlogged because it is not vitrified
Notes
Notice the water has wicked up to about 1 cm from the rim (the piece sat in water overnight). The glaze fits so there are no cracks for the water to seep through. However, being fired at cone 04, the body is quite porous. The piece has a unglazed base. Notice the water even travelled up the handle. Less exposed bare
clay
on the base would improve the situation somewhat, however it would be much better to choose a body that vitrifies sufficiently dense so that it does not absorb water (or fire to a higher temperature). There is a not-so-obvious issue here also: Although this piece did not explode in the microwave, it got incredibly hot. Amazingly, through all of this, the glaze has not crazed. It is
G3879
.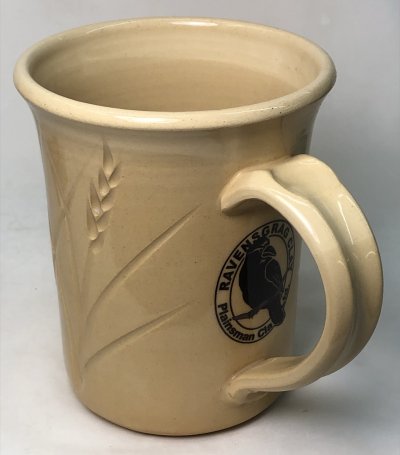 Reverse-engineer a commercial transparent glaze to get the recipe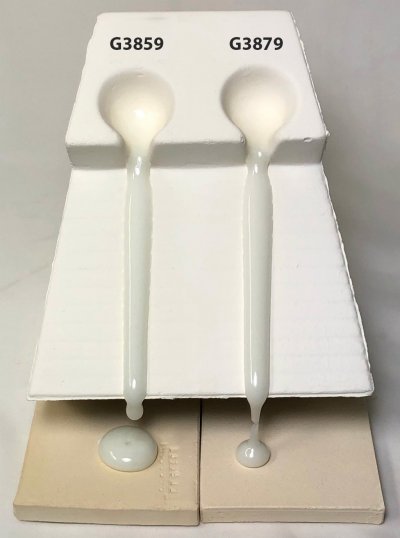 The commercial cone 04 clear brushing glaze on the left works really well on our bodies so I sent it away to be analyzed (about $130). From that information and using my account at insight-live.com I was able to create a recipe, having the same chemistry, employing two Fusion frits (which amazingly supplied all of the fluxing oxides). In this amazing cone 04 melt fluidity comparison they are almost identical (mine, G3879, has a little more surface tension). The Al2O3 and SiO2 levels would make, even a cone 6 glaze, jealous! So it should be very durable. And it has low thermal expansion (no crazing). With the bucket of dipping-slurry I made I can glaze a piece perfectly evenly in seconds rather than the normal 10 minutes of fiddling with a brush and three coats! I have used it on dozens of pieces, it's amazing. I can't wait to start adding stains!
Links
Glossary
Vitrification
The term vitrified refers to the fired state of a piece of porcelain or stoneware. Vitrified ware has been fired high enough to make it very strong, hard and dense.
Glossary
Clay Body Porosity
In ceramics, porosity is considered an indication of density, and therefore strength and durability. Porosity is measured by the weight increase when boiled in water.
Recipes
G3879 - Cone 04 Transparent Low-Expansion Base Glaze
A super transparent low fire base clear glaze created by reverse engineering a commercial product.
---


Copyright 2008, 2015, 2017 https://digitalfire.com, All Rights Reserved