Water-logging happens when a clay is underfired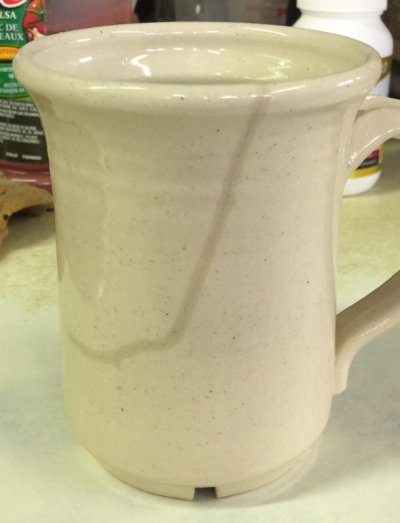 The cone 6 glaze is well developed, it is not crazed. But the clay underneath is not developed, not vitreous. This crack happened when the mug was bumped (because of poor strength). It is barely visible. When the mug is filled with water, this happens. How fast? This picture was taken about 5 seconds later. If this was crazing, and this piece was in actual use, the clay would gradually become completely water logged. Then one day someone would put it in the microwave! Boom.
A cone 10 reduction tenmoku glaze with about 10% iron oxide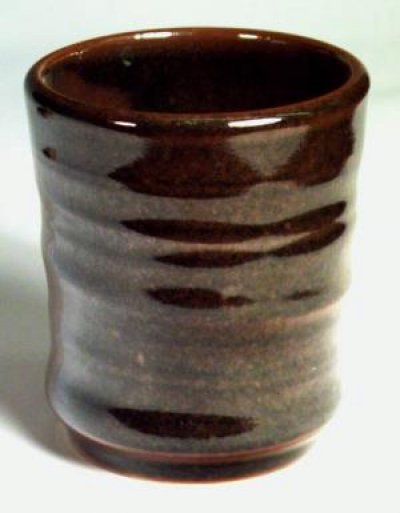 Fired on a porcelain in a gas kiln.
This mug has waterlogged because it is not vitrified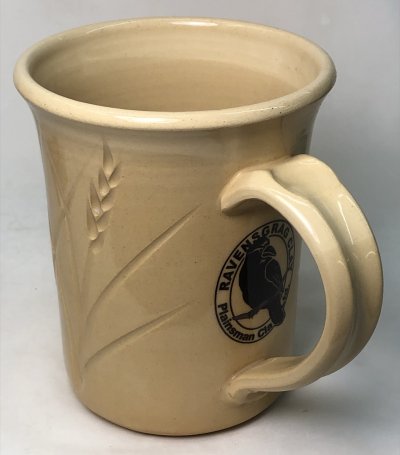 Notice the water has wicked up to about 1 cm from the rim (the piece sat in water overnight). The glaze fits so there are no cracks for the water to seep through. However, being fired at cone 04, the body is quite porous. The piece has a unglazed base. Notice the water even travelled up the handle. Less exposed bare clay on the base would improve the situation somewhat, however it would be much better to choose a body that vitrifies sufficiently dense so that it does not absorb water (or fire to a higher temperature). There is a not-so-obvious issue here also: Although this piece did not explode in the microwave, it got incredibly hot. Amazingly, through all of this, the glaze has not crazed. It is G3879.
Related Information
Links
Articles
Is Your Fired Ware Safe?
Glazed ware can be a safety hazard to end users because it may leach metals into food and drink, it could harbor bacteria and it could flake of in knife-edged pieces.
Glossary
Food Safe
There is an increasing awareness of the food safety of glazes among potters. Be skeptical of claims of food safety from potters who cannot explain or demonstrate why.
Glossary
Functional
A term used in ceramic to express the degree to which an item is safe and stands up to everyday use. Functionality embodies strength, hardness, resistance to acid attack and thermal shock, etc.
URLs
http://www.astm.org/Standards/C1607.htm
ASTM method for microwave safety
By Tony Hansen

---


Copyright 2008, 2015, 2017 https://digitalfire.com, All Rights Reserved