Clay cracking often happens because of uneven drying, not lack of grog
Using a grogged body for making functional pottery is misguided. Unless very large pieces are being made it makes little sense to add the inconveniences of having a gritty material in your clay. Any normal smooth commercial pottery clay will dry without cracking if ware is dried evenly.
Related Pictures
Do grog additions always produce better drying performance?
Tap picture for full size and resolution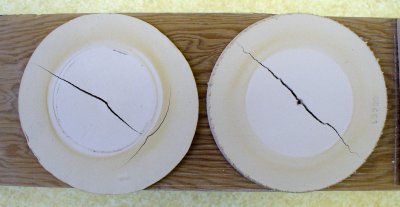 This DFAC test for drying performance compares a typical white stoneware body (left) and the same body with 10% added 50-80 mesh molochite grog. The character of the crack changes somewhat, but otherwise, there is no improvement. While the grog addition reduces drying shrinkage here by 0.5-0.75% it also cuts dry strength (as a result, the crack is jagged, not a clean line). The grog vents water to the surface better, notice the soluble salts do not concentrate as much. Notice another issue: The jagged edges of the disk, it is more difficult to cut a clean line in the plastic clay.
Links