At what point is a cone bent to the correct degree?
Orton says "90 angular degrees is considered the endpoint of cone bending". First, let's assume the normal: Examination of cones on kiln-opening to verify controller operation. Consider the cone on the left: The tip is touching. But it is also beginning to buckle, that means it was touching for a while before the firing ended . Who knows how long! The second one is not touching, but has still fallen a little too far. Why do we say that? The third one, positioned on the Orton guide, has reached the recommended 90 degrees. This demonstrates a good reason why self supporting cones are much better than standard ones: They are not touching when considered done. And standard cones, when sent in a 3/4" plaque, have a less consistent bending behaviour.
Related Pictures
The bending of an Orton standard cone 10
People refer to the extent of cone-fall as numbers-on-the-clock or degrees. This cone is at 5 oclock or 80 degrees. Notice that from start-to-finish is 35 degrees F (not all cones have this same 35 degree fall). As you can read on the temperature scale, 25+ degrees happen before it reaches 2 o'clock! From 5 to 6 o'clock is only 1 degree! This is a standard cone that requires a plaque, notice that the down-touching position is when it hits the top of the plaque. It follows from this that one can convert cone-bend to equivalent temperature. That being said, remember that cones measure heat-work, so the conversion is only valid for a 60F/hr rate-of-rise.
Cones bending normally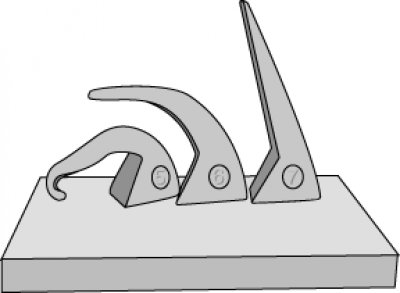 Orton says: "If the Guard Cone has bent, you have exceeded the best time-temperature relationship". We have found that bending the firing cone down to 90 degrees most often starts the guard cone. So, if the quard cone is starting, we have gotten into the habit of judging the firing as accurate when the firing cone reaches the 3 o'clock position. If the guide cone is not started we judge a firing as accurate when the firing cone is at 5 o'clock, before touching.
Cone bending in a slow firing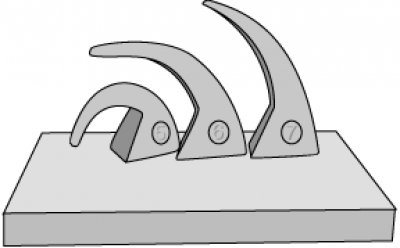 This is not supposed to happen. The guide cone should be flattened. And the guard cone should not be starting. But what you see does happen often. this indicates that the real-world performance of cones does not always match the theoretical behaviour. This is because the bending range of many cones overlap that of their neighbours. And performance is affected when firings are slower and faster than the 60F/hr reference given by Orton.
Cones bending badly
We sometimes see customers doing this with cones: Putting them in the plaque backwards! Of course, they are not going to be accurate. Actually, self supporting cones are much better, they are idiot-proof because they enforce the 8 degree angle and bending direction.
Links
Glossary
Cone
Devices that melt and bend in a ceramic kiln at specific temperatures when subjected to specific up ramps. Today, cones are used to calibrate controllers.
---
---


https://digitalfire.com, All Rights Reserved
Privacy Policy