Jigger arm assembly for a Shimpo RK2 pottery wheel
We are currently working on creating mechanical drawings for this (and the cupheads). This is very sturdy and useful. The arm is relatively short compared to industrial jigger wheels and is thus useful for only small shapes. There is an advantage: The template contacts vertical walls at a more perpendicular angle. But the disadvantage is that the trailing edge of the template hits the outside edge of the lip on taller shapes. The pointed bolts hold the arm securely and their tightness enables varying the friction of movement. They have enough length to also position the arm horizontally. We 3D print templates and block masters for making working molds that drop into the cuphead.
Related Pictures
Jigger Wheel Aluminum Cuphead (for cups)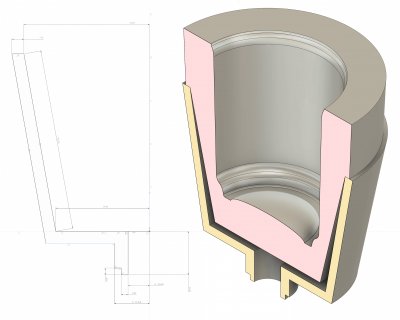 Showing dimensions to fit a Shimpo RK2 wheel, its shaft is 0.983 in diameter. The molds fit down inside as shown, only contacting the cuphead at the shoulder. This is machined from aluminum.
Links