Jiggering
Jiggering is a process of forming pottery that employs a spinning plaster mold and a tapered template to press soft clay or porcelain against it.
Details
A process for mass-producing simple shapes on a mechanized pottery wheel having a solid swing-arm with a template. The process is, of course, very automated in industry but it is also very accessible to potters.

For plates, a profile describing the outside shape of the ware is used to force the soft clay against a rotating plaster mold describing the inside shape. For vessel forms, the profile forms the inside shape. After drying against the plaster, the piece shrinks and releases and can be removed from the mold. After removal, fix-up generally needs to be done to smooth any irregularities on the surface that was against the mold and finish the edges and lips of pieces.

Typically, clay used for jiggering is much softer than that used for throwing on the potter's wheel. The work required to set up a jiggering process is significant and a number of mechanical and mold making skills are needed. RAM pressing is a better alternative for many shapes (but is much more expensive).

Related Information
Jim Etzkorn jiggering a crock in 2013 at the historic Medalta Potteries
Medalta still manufactures ware, albeit on a much smaller scale, in a dedicated facility. Visitors to the exhibits see this operation when they do the standard tour. Most ware is transparent glazed and fired at cone 6 oxidation in electric kilns.
3D render for a jiggering template
Print this using PLA filament and it will be plenty strong enough to use (even if not printed solid). The knife-edge will print very precise and smooth, giving a good profile. After making several of these I discovered that I could hold them in-hand to finish a mug I had already slip cast in a jigger mold (a jigger arm was not even needed). The profile contour was easy to copy from my drawing of the mug itself. This template is fairly narrow, this was needed so the backside cleared the rim of the spinning mold as the jigger arm is lowered. But now that I use it in-hand, I could increase that dimension so it finishes right across the base.
3D-Printed shell to cast working plaster jigger molds
The grey outer shell mold on the left was printed in two parts and glued together (at the shoulder). It's vertical split enables me to open it a little. The center model of the outside contour of the mug (on a two-step base) was made by casting the plaster inside another two-piece 3D-printed form I had made (we had to use a heat-gun and scissors to get the PLA printed form off of that plaster). It smooth the surface on the wheel using a metal rib and trimming tool. Then I stretched a rubber band around the first step at the bottom (because the shell was a little lose-fitting). Now the outer shell mold fits perfectly and clamps tightly in place. To cast a jigger mold it is just a matter of soaping the plaster model and the inside of the shell and pouring in a mix of 1300 pottery plaster and 900 water.
Jigger arm from both sides
The arm is heavy, made from 1/2 inch plate steel. The counterweight at the end have 1 in plate weights. The swivel mounts are machined to fit the custom cone-ended bolts.
Jigger Wheel Aluminum Cuphead (drawing and measurements)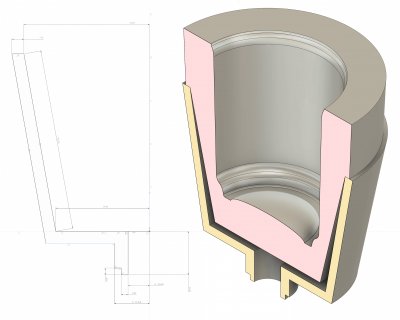 Showing dimensions to fit a Shimpo RK2 wheel, its shaft is 0.983 in diameter. The molds fit down inside as shown, only contacting the cuphead at the shoulder. This is machined from aluminum.
Cuphead for Shimpo jigger wheel
This is machined out of aluminum. We will have mechanical drawings available during Fall 2020. We also have drawings of a 3D printable shell mold for making molds that drop into this. And methodology for printing the outside contour of pieces to be jiggered.
Jigger arm assembly for a Shimpo RK2 pottery wheel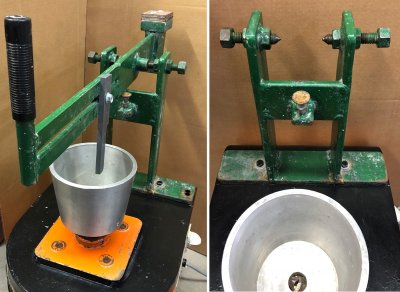 We are currently working on creating mechanical drawings for this (and the cupheads). This is very sturdy and useful. The arm is relatively short compared to industrial jigger wheels and is thus useful for only small shapes. There is an advantage: The template contacts vertical walls at a more perpendicular angle. But the disadvantage is that the trailing edge of the template hits the outside edge of the lip on taller shapes. The pointed bolts hold the arm securely and their tightness enables varying the friction of movement. They have enough length to also position the arm horizontally. We 3D print templates and block masters for making working molds that drop into the cuphead.
My potter's wheel with aluminum cup-head and jigger mold inserted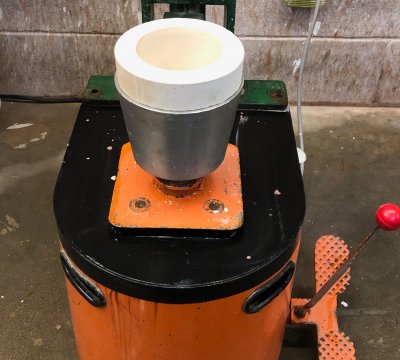 The cup-head was lathed from a block of aluminum and it attaches to the shaft the same as a regular wheel-head. Plaster molds simply drop in and sit on their shoulder. The shoulder is the only point-of-contact, this prevents chattering while the mold spins when under pressure. I am using these molds for a casting-jiggering process (or just casting). For example, I can cast a mug in the mold, then pour out the slip, wait a few minutes and then, as the wheel spins, finish the rim and inside sure using a 3D-printed template/rib. I do not actually use the jigger arm, it is easier just to hold the template in hand. I can finish the rims on any round pieces made in these molds.
Using clay as a glue to hold a jigger shell-mold in place
This was part of my nursery plant-pot mold-making project. I held previous shell-molds down with a brick on top. But that was not working well, putting the mold out of shape, making it difficult to pour the slip inside and agitate the mold after pouring to surface the bubbles. I found that the 3D printed mold can be held down by simply using a sticky clay slip (Plainsman Polar Ice)! I printed this one with a flange at the bottom for this purpose. I am pouring the mold on an arborite bat on the wheelhead of a potters wheel. This enables turning the wheel slowly and pouring the plaster into the perimeter slowly through a funnel, that produces a much better surface. If you don't have a super sticky clay you can make one by adding 4% Veegum to a Grolleg porcelain. Actually, Grolleg and New Zealand kaolins are both very sticky, so they could also work.
Surface treatment affects glaze speck development in jiggered stoneware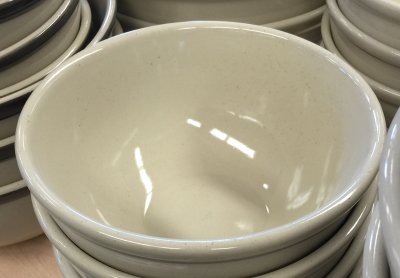 Notice the inside of this large transparent glazed cone 6 stoneware bowl. There is a concentration of specks on one part because that area was sponged at the leather hard and dry stages to smooth surface problems that happened during the jiggering process. These specks are normally driven below the surface during forming.
Laminations in a jiggered bowl
These are not cracks. They do not go through to the inside. During forming the clay was folded over itself rather than compressed against the mold.
Casting plates, is it practical?
No. Because you will face a whole array of problems. This is the first, poor mold release, or more correct, impossible mold release! Plates will be too thin walled. If you cast them longer wall thickness will be uneven. Edges will crack like this (because of poor plasticity). They will warp during drying. They will lack dry strength for handling. They will warp during firing. You won't be able to get a good rim. You won't be able to cast a foot ring without an indent showing on the inside. Note here that another issue is at play: The clay is either not plastic enough to cut cleanly at the rim, without tearing. Or, it is being cut too late or with a dull knife. These tears provide places for cracks to initiate. Plates are much better made using the jiggering, ram pressing or dust pressing processes. Or by throwing them on plaster batts.
Links