A terra cotta clay fired from cone 06 (bottom) to 4
Terra cotta bodies are more volatile in the kiln than stonewares. They mature rapidly over a narrower range of temperatures, that process is accompanied by dramatic changes in fired color, density and fired strength. These bars are fired (bottom to top) at cone 06, 04, 03, 02, 2 and 4. This is Plainsman BGP (a quarry material), cone 02 finds it at maximum density (and fired shrinkage). At cone 06 (1830F/1000C) it is porous and shrinks very little. But as it approaches and passes cone 03 (1950F/1070C) the color deepens and then moves toward brown at cone 02 (where it reaches maximum density and stoneware strength). However, past cone 02 it becomes unstable, beginning to melt (as indicated by negative shrinkage). This is typical of most terra cotta clay materials. The good news: With careful selection of temperature this clay can produce strong and durable pottery at a very low, and economical, temperature.
Related Pictures
Why this transparently-glazed terra cotta is better at cone 03 than 04
Tap picture for full size and resolution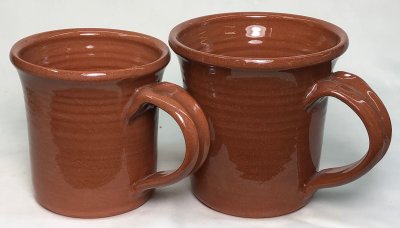 Terra cotta bodies are typically fired between cone 06 and 04. That being said, many, like this Plainsman L215, develop richer color at cone 03 and fire much stronger. Glazes, of course, melt better and micro-bubbles pass through easier at cone 03. But this happens only if the body has not begun to decompose (and therefore generate a lot more gases of decomposition). Notice that crazing is beginning on the one of the left. Apparently the improved body:glaze interface and the development of better vitrification reduces the problem. Cone 03 is somewhat of a sweet-spot for this specific body, however firing higher begins decomposition processes that generate gases that disrupt the surface. Needless to say, accurate firing is needed to fire at cone 03 for ongoing success (because cone 02 is too high for this body, glaze will blister). Do you know what terra cotta actually is, if not click the link to learn more (this is a big topic).
Vitreous fired ceramic that stays floating!
Tap picture for full size and resolution
The reason this floats is two-fold: It has a low density and it is highly vitreous. This is made from a mix of 60% Plainsman BGP terra cotta clay, 35% Fillite and 5% bentonite (by weight). By volume there is more Fillite than clay. The Fillite reduces the plasticity of the material considerably, but it was still possible to form this ball and the SHAB test bars without problem. This was fired at cone 6, this clay would normally be melting by that temperature. But instead, it acts as a vitreous bonding agent to hold together the millions of tiny glass spheres of the Fillite. The result is a material that does not absorb water easily, this ball floated for more than 8 hours before sinking.
Links