Commercial supposedly safe glazes leaching. A liner glaze is needed.
Three cone 6 commercial bottled glazes have been layered. The mug was filled with lemon juice overnight. The white areas indicate leaching has occurred! Why? Glazes need high melt fluidity to produce reactive surfaces like this. While such normally tend to leach metals, supposedly the manufacturers were able to tune the chemistry enough to pass tests. But the overlaps interact, like drug interactions they are new chemistries. Cobalt is clearly leaching. What else? We do not know, these recipes are secret. It is better to make your own transparent or white liner glaze (either as a dipping glaze or brushing glaze). Better to know the recipe to have control assurance of adherence to basic recipe limits.
Related Pictures
Commercial glazes on decorative surfaces, your own on food surfaces
Tap picture for full size and resolution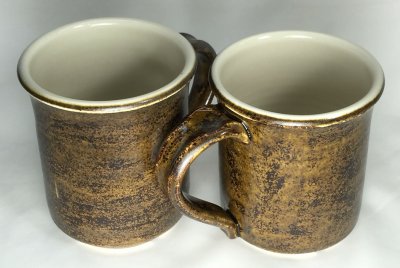 These cone 6 porcelain mugs are hybrid. Three coats of a commercial glaze painted on outside (Amaco PC-30) and my own liner glaze, G2926B, poured in and out on the inside. When commercial glazes (made by one company) fit a stoneware or porcelain (made by another company), it is often purely an accident! So test thoroughly or just use them on the outsides. For inside food surfaces make or mix a liner glaze already proven to fit your clay body, you have to option to make it as a dipping glaze or brushing glaze. One that is sensible enough to fit common sense recipe limits and not have an unbalanced chemistry. And you can use quality materials that you know deliver no toxic compounds to the glass and that are proptioned to deliver a balanced chemistry.
Links
Glossary
Leaching
Ceramic glazes can leach heavy metals into food and drink. This subject is not complex, there are many things anyone can do to deal with this issue
Glossary
Functional
A term used in ceramic to express the degree to which an item is safe and stands up to everyday use. Functionality embodies strength, hardness, resistance to acid attack and thermal shock, etc.
Glossary
Food Safe
There is an increasing awareness of the food safety of glazes among potters. Be skeptical of claims of food safety from potters who cannot explain or demonstrate why.
Glossary
Liner Glaze
Liner-glazing is a very good way to assure that your ware has a durable and leach resistant surface. It also signals customers that you care about this.
URLs
http://digitalfire.com/ins/DigitalfireTechTips.pdf
Digitalfire Tech Tips PDF Handouts
Tests
Glaze Leaching Test
Simple tests to evaluate the stability of a ceramic or pottery glaze against leaching metals in food or drink.
Articles
Where do I start in understanding glazes?
Break your addiction to online recipes that don't work or bottled expensive glazes. Learn why glazes fire as they do. Why each material is used. How to create perfect dipping and drying properties. Even some chemistry.
Got a Question?
Buy me a coffee and we can talk
---


https://digitalfire.com, All Rights Reserved
Privacy Policy