Is Lincoln 60 really a fireclay? Simple physical testing says...
Notes
Materials are not always what their name suggests. These are Lincoln
Fireclay
test bars fired from cone 6-11 oxidation and 10 reduction (top). The
clay
vitrifies progressively from cone 7 upward (3% porosity at cone 7 to 0.1% by cone 10 oxidation and reduction,
bloating
by cone 11). Is it a really fireclay? No.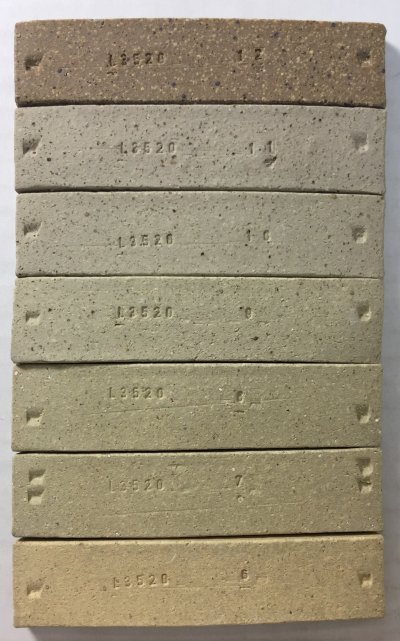 Links
Materials
Lincoln 60 Fireclay
Glossary
Vitrification
The term vitrified refers to the fired state of a piece of porcelain or stoneware. Vitrified ware has been fired high enough to make it very strong, hard and dense.
Glossary
Fireclay
In the ceramics industry, clays that are resistant to deforming and melting at high temperatures are called fireclays. Kiln bricks are often made from fireclay.
Glossary
Stoneware
To potters, stonewares are simply high temperature, non-white bodies fired to sufficient density to make functional ware that is strong and durable.
---


Copyright 2008, 2015, 2017 https://digitalfire.com, All Rights Reserved