Gunmetal glaze
A type of ceramic glaze: Pebbly matte black. For functional surfaces, it has enough glossy to not cutlery mark and be easy to clean.
Details
Refers to a black matte glaze that resembles the pebbly surface of cast iron. Traditionally most potters have believed that these are most easily made at cone 10 reduction, since the needed silky magnesia matte surface has been "indigenous" there. But recently more people are using high-MgO glazes in oxidation, finding they produce the same silky, pebbly surface (as long as there is sufficient flux, usually boron). A key success factor is willingness to tune the degree of matteness, typically mixing a batch from a recipe likely to be slightly more matte than desired, then doing cycles of adding measured amounts of a glossy base and reassessing the degree of matteness. Cooling speed is also a factor in the nature of the surface, that is why it is typical to tune the color by blending matte:glossy rather than adapt the firing to that specific gunmetal recipe.
Related Information
A gunmetal glaze I have wanted for decades!
After 40+ years of making pottery I finally have a perfect functional, durable gunmetal black. It has an incredible silky surface. It does not cutlery mark. It does not craze on anything. It is easy to clean. This is G2934Y with 6% Mason 6600 black stain firing using the PLC6DS schedule. I had to tune it a bit, adding about 15% glossy G2926B, because it was a little too matte on initial firings. But now it is perfect. These are heavy mugs made using the M340 casting recipe (and the casting-jiggering process). The speckled mug was made by casting a thin layer of the speckled version of the slip first, then filling the mold with the regular slip. I used a 40-minute cast to get walls nice and thick!
Cone 10R gunmetal black pure Alberta slip glaze
It has 5% Mason 6666 stain added.
Alberta and Ravenscrag Slip pure at cone 5 reduction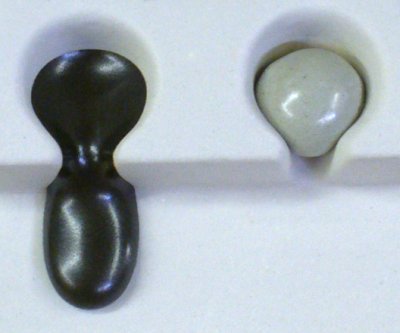 At cone 5R pure Alberta Slip (left) is beginning to melt and flow down the runway of this tester. It is producing a matte gunmetal surface. Pure Ravenscrag Slip (right) is just starting (it needs frit to develop melt fluidity at this temperature). The iron in the Alberta Slip is melting it because of the reduction atmosphere in the kiln (it does not move like this in oxidation).
Additions of black stain to Alberta Slip at cone 10R
Alberta Slip (50:50 calcine:raw mix) with 1, 2, 3, 4 and 5% added Mason 6666 black stain. Fired at cone 10R. Semi-gloss blacks are produced. Increasing stain percentage above about 3% does not darken the color appreciably.
Links