How many degrees between these cone positions?
I was consistently getting the cone on the left when using a custom-programmed firing schedule to 2204F (for cone 6 with ten minute hold). However Orton recommends that the tip of the self supporting cone should be even with the top of the base (they consider the indicating part of the cone to be the part above the base). So I adjusted the program to finish at 2200F and got the cone on the right. But note: This applies to that kiln at that point in time (with that pyrometer and that firing schedule). Our other test kiln bends the cone to 5 o'clock at 2195F. Since kiln controllers fire cone 6 at 2230 (for the built-in one-button firings) your kiln is almost certainly over firing!
Related Pictures
Bloating with multiple bodies at cone 6: Why is this happening?
Tap picture for full size and resolution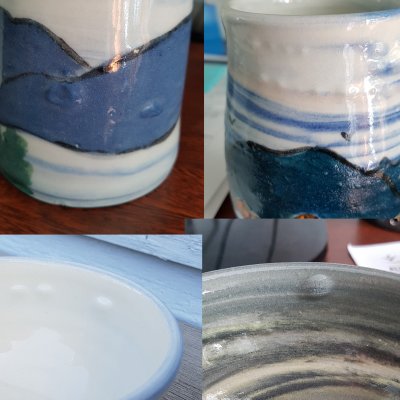 The problem occurred with standard Plainsman M340, M390, M350, M370 and P300. The stonewares have porosities of 2-3%, the M370 1% and the P300 0.5%. Thus, all of these have comfortable margins for overfiring. The G2926B glaze, used on all of them, does seal the surface pretty early so it can contribute to over-fired ware bloating sooner than typical. But the problem here is the cone-fire modes on hobby kiln controllers. For this kiln, the cone 6 program goes to 2236F. That's cone 7. Adding the error of the thermocouple and the misinformation from poorly set cones the temperature overshoot could be more. That means this ware is likely just over-fired. Manually programming your kilns in consort with calibration using self-supporting cones, that is the way to get control. Then you will also be able benefit from the firing schedules like the drop-and-soak PLC6DS and slow-cool C6DHSC.
Links
Firing Schedules
Plainsman Cone 10R Firing
Six-step oxidize-at-end schedule to 2372F
Firing Schedules
Plainsman Low Temperature Drop-and-hold
Five-step to 1940F, short hold, drop-and-hold, free-fall
Firing Schedules
Plainsman Cone 6 Electric Standard
Used in the Plainsman lab to fire clay test bars in our small kilns
Firing Schedules
Cone 03 Fast Fire

Firing Schedules
Low Temperature Drop-and-Hold

Firing Schedules
Cone 6 Drop-and-Soak Firing Schedule
350F/hr to 2100F, 108/hr to 2200, hold 10 minutes, freefall to 2100, hold 30 minutes, free fall
Firing Schedules
Plainsman Cone 6 Slow Cool
350F/hr to 2100F, 108/hr to 2200, hold 10 minutes, fastdrop to 2100, hold 30 minutes, 150/hr to 1400
Glossary
Pyrometric Cone
Cones are ceramic and bend through a narrow temperature range. They used to be actively used to determine when firings were completed but now are used to calibrate electronic devices.
Glossary
Firing Schedule
Designing a good kiln firing schedule for your ware is a very important, and often overlooked factor for obtained successful firings.
Got a Question?
Buy me a coffee and we can talk
---


https://digitalfire.com, All Rights Reserved
Privacy Policy