No tracking! No ads!
That's why this page loads quickly!
SignUp for Monthly Tech-Tip from Tony Hansen
What position should the cone be for correct firing?
Four o'clock. These are self-supporting cones, use these. I was consistently getting the cone on the left using a custom-programmed firing schedule to 2204F (for cone 6 with ten minute hold). However Orton recommends that the tip of the self supporting cone should be even with the top of the base, not the bottom. So I adjusted the program to finish at 2200F and got the cone on the right. But note: This applies to that kiln with that pyrometer, our other test kiln puts cone 6 at 4 o'clock at 2195F. Of course, if you want the kiln to hold at cone 6 for longer the cone will bend further, so the top temperature would need to be reduced to compensate for that. If you are using the automatic programs (e.g. cone 6 schedules go to around 2230!) your kiln is almost certainly over firing.
Related Pictures
Bloating on a range of bodies at cone 6: Why is this happening?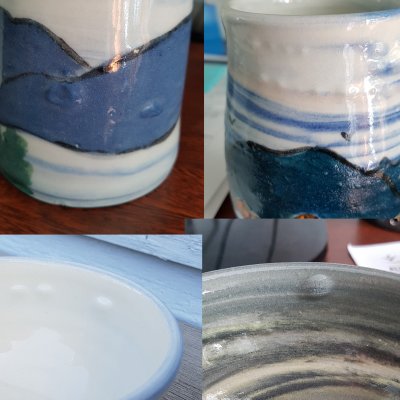 The problem occurred with standard Plainsman M340, M390, M350, M370 and P300. The stonewares have porosities of 2.5%, the M370 1% and the P300 0.5%. Thus, all of these have comfortable margins for over firing. The G2926B glaze, used on all of them, does seal the surface pretty early so it will contribute to over-fired ware bloating sooner than typical. The problem here is the cone-fire modes on kiln controllers. For this kiln, the cone 6 program goes to 2236F. That's cone 7. Or more. Most people do not want to manually program their controllers. This is unfortunate since they do not benefit from the drop-and-soak PLC6DS and slow-cool C6DHSC firing schedules. And they end up over-firing their ware. Here is what many do: They cone-fire to cone 5. That produces cone 6!
Links