C04PLTP Firing Schedule
Plainsman Typical Cone 04
In the Plainsman lab we have standardized on a simple firing curve for test specimens that provides a soak for final drying and then proceeds to 100 degrees below the final temperature at 400 degrees per hour, then slows to 100 degrees per hour for the final stage. The cool is freefall. Of course, depending on the kiln used, the rate-of-rise might be slower, especially in the later stages.
| | | | | | |
| --- | --- | --- | --- | --- | --- |
| 1 | 100°C/hr to 100C | 180°F/hr to 212F | 60min | 2:02 | |
| 2 | 150°C/hr to 960C | 270°F/hr to 1760F | 0 | 7:46 | |
| 3 | 100°C/hr to 1060C | 180°F/hr to 1940F | 5min | 8:51 | |
| 4 | Freefall°C/hr to 30C | 0°F/hr to 86F | | 8:51 | |
Start temperature assumed: 25°C or 75°F
100°F is 37°C, but 100 fahrenheit degrees is 55 celsius degrees, that is an important distinction to understand the above temperature conversions.
Related Information
Program your firings manually, calibrate the final temperature using cones
Here is an example of our lab firing schedule for cone 10 oxidation (which the cone-fire mode does not do correctly). To actually go to cone 10 we need to manually create a program that fires higher than the built in cone-fire one. Determining how high to go is a matter repeated firings verified using a self supporting cone (regular cones are not accurate). In our lab we keep notes in the schedule record in our account at insight-live.com. And we have a chart on the wall showing the latest temperature for each of the cones we fire to. What about cone 6? Controllers fire it to 2235, we put down a cone at 2200!
How many degrees between these cone positions?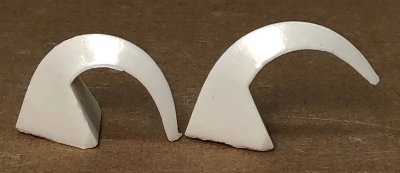 I was consistently getting the cone on the left when using a custom-programmed firing schedule to 2204F (for cone 6 with ten minute hold). However Orton recommends that the tip of the self supporting cone should be even with the top of the base (they consider the indicating part of the cone to be the part above the base). So I adjusted the program to finish at 2200F and got the cone on the right. But note: This applies to that kiln at that point in time (with that pyrometer and that firing schedule). Our other test kiln bends the cone to 5 o'clock at 2195F. Since kiln controllers fire cone 6 at 2230 (for the built-in one-button firings) your kiln is almost certainly over firing!
Links