Vitrification can be obvious by simple visual inspection
Notes
The unglazed surface of the left piece has a sheen, it is a product of glass development during firing to cone 6. That body is a 50:50 mix of a cone 8
stoneware
and a low fire
earthenware
red (a material that would normally be melted by this temperature). Together they produce this dense, almost zero-porosity
ceramic
. The unglazed surface on the right looks more like plaster, and it is absorbent, about 5%
porosity
. It is a mix of the same stoneware but with 50% ball
clay
. The
refractory
ball clay assures that the stoneware, which was already inadequately
vitreous
, is even more so. As you can imagine, the left piece is far stronger.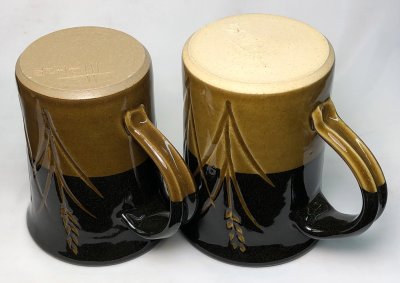 Links
Glossary
Vitrification
The term vitrified refers to the fired state of a piece of porcelain or stoneware. Vitrified ware has been fired high enough to make it very strong, hard and dense.
Glossary
Fired Strength
Ceramics, by their brittle nature, have high compressive strength. But in functional ceramics we are more concerned about the tensile strength as this relates better to serviceability.
Glossary
Maturity
A term used in the ceramics industry to signify the degree of vitrification in a fired clay. Mature clays are dense and strong, immature ones porous and weak.
---


Copyright 2008, 2015, 2017 https://digitalfire.com, All Rights Reserved