Sedimentary clays are a whos-who of the periodic table
Notes
These are the results of a detailed elemental composition
analysis
of a sedimentary
clay
. The first column of numbers is ppm (parts per million), divide them by 10,000 to get percent. The Fe here, for example, is 50,868 or 5.1%. The second column is +/- error. Notice that this test does not detect boron or lithium, they require a different method. By contrast, the chemical analysis shown on the data sheet of a typical
ceramic
material shows only the principle ceramic oxides (less than a dozen), but all of these trace elements will still be present.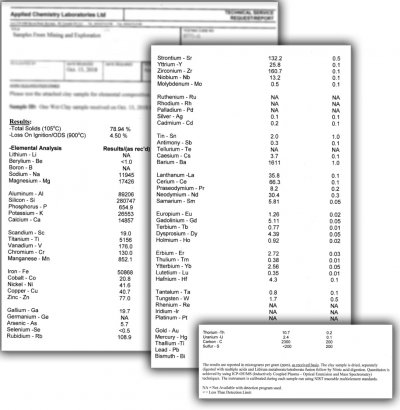 Links
Glossary
Analysis
In ceramics, raw material chemistry is expressed as analyses. This is in contrast to fired glaze chemistries which are expressed as formulas.
Glossary
Glaze Chemistry
Glaze chemistry is the study of how the oxide chemistry of glazes relates to the way they fire. It accounts for color, surface, hardness, texturem, melting temperature, thermal expansion, etc.
Glossary
Toxicity
The vast majority of materials used in ceramics are insoluble. But many still present hazards. And you can add hazards (to you and customers of your ware) by the way you use them. Still, there is a need to be realistic about it.
Glossary
Clay
What is clay? How is it different that regular dirt? For ceramics, the answer lies on the microscopic level with the particle shape, size and how the surfaces interact with water.
---


Copyright 2008, 2015, 2017 https://digitalfire.com, All Rights Reserved