URL: It Starts With a Lump of Clay: How to Assess a Native Clay
Click the link below to go to this page
Related Information
Testing your own native clays is easier that you might think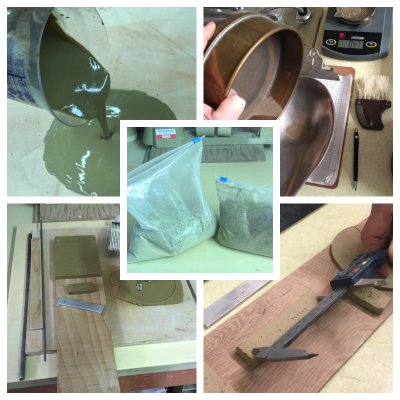 Some simple equipment is all you need. You can do practical tests to characterize a clay in your own studio or workshop (e.g. our SHAB test, DFAC test, SIEV test, LDW test). You need a gram scale (accurate to 0.01g) and set of calipers (check Amazon.com). Some metal sieves (search "Tyler Sieves" on Ebay). A stamp to mark samples with code and specimen numbers. A plaster table or slab. A propeller mixer. And, of course, a test kiln. And you need a place to put, and learn from, all the measurement data collected. An account at insight-live.com is perfect.
Step-by-step how to test and evaluate a new native clay
"It Starts With a Lump of Clay", a step-by-step Insight-Live.com tutorial (from its help system) on how to document every step (in an account at at insight-live.com) of analyzing a raw sample of clay. You will learn things about drying shrinkage, drying performance, particle size distribution, plasticity, firing shrinkage, fired porosity, fired color, soluble salt content, fired strength, etc. We will not just observe these properties, but measure them. In doing so we will characterize the material. We will answer simple questions about how the material forms, dries and fires across a range of temperatures. In doing the testing I will be generating a lot of data. No single factor is more intimidating to new technicians than what do to with this data, how to store it, where to store it, how it can be searched, learned from, compared. This tutorial will erase that question.
Links
Tests
Shrinkage/Absorption Test
Tests
LOI/Density/Water Content
Tests
Sieve Analysis 35-325 Wet
Tests
Drying Factor
Articles
How to Find and Test Your Own Native Clays
Some of the key tests needed to really understand what a clay is and what it can be used for can be done with inexpensive equipment and simple procedures. These practical tests can give you a better picture than a data sheet full of numbers.
Glossary
Insight-Live
A database website where potters and ceramic technician account holders enter their recipes, materials, pictures, test procedures, firing schedules, etc.
Glossary
Particle Size Distribution
Knowing the distribution of particle sizes in a ceramic material is often very important in assessing its function and suitability for an application.
Glossary
Drying Shrinkage
Clays used in ceramics shrink when they dry because of particle packing that occurs as inter-particle water evaporates. Excessive or uneven shrinkage causes cracks.
Glossary
Firing Shrinkage
During drying, clay particles draw together and shrinkage occurs. During firing the matrix densifies and shrinkage continues. More vitreous bodies shrink more.
Glossary
Physical Testing
In ceramics, glazes and bodies have a chemistry, a mineralogy and a physical presence. All of these need to be understood to adjust and fix issues.
---
---


https://digitalfire.com, All Rights Reserved
Privacy Policy