URL: Case Study: Testing a Native Clay Using Insight-Live.com
Click the link below to go to this page
Related Information
Click here for case-studies of Insight-Live fixing problems
Tap picture for full size and resolution
You will see examples of replacing unavailable materials (especially frits), fixing various issues (e.g. running, crazing, settling), making them melt more, adjusting matteness, etc. Insight-Live has an extensive help system (the round blue icon on the left) that also deals with fixing real-world problems and understanding glazes and clay bodies.

Step 11: 40, 50, 70, 100 mesh oversize particles (clockwise)
Tap picture for full size and resolution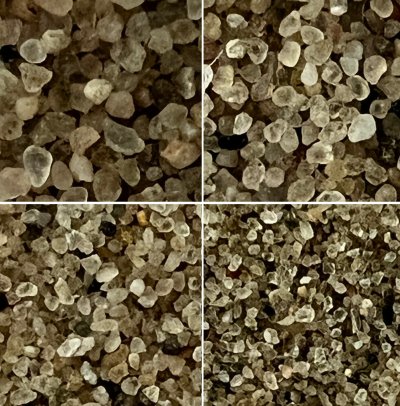 These photos were taken by an iPhone 13 at 1-inch distance. They are the residue on each of the four sieves (remember I already sieved the material through 30 mesh, the top sieve thus represents the 30-40 mesh fraction). From these, it appears that the particulate in the clay is mostly rounded quartz particles. Their presence explains the sandy feel of the material during throwing (strangely, round particles generally feel sandier than angular ones). The reason it was difficult to wet-sieve through 30 mesh is that these rounded particles must be clogging the screen. It is a safe assumption that if it was tested down to 325 mesh, the percentage of quartz sand on each sieve would continue to increase. Because these particles are present at all sizes measured, the same clogging issue would occur at any mesh size. The presence of so many quartz grains also means it would be just about impossible to grind this finer than 30 mesh in a hammer mill. This being said, the presence of so many quartz particles likely means glazes will fit well (or possibly even shiver), it will have good drying performance and the plastic material should dewater quickly.
How to decide what temperature to fire this terra cotta at?
Tap picture for full size and resolution
Let's suppose you need strength and density for utilitarian ware. These SHAB test bars characterize a terra cotta body, L4170B. While it has a wide firing range its "practical firing window" is much narrower than these fired bars and graph suggest. On paper, cone 5 hits zero porosity. And, in-hand, the bar feels like a porcelain. But ware will warp during firing and transparent glazes will be completely clouded with bubbles (when pieces are glazed inside and out). What about cone 3? Its numbers put it in stoneware territory, watertight. But decomposition gases still bubble glazes! Cone 2? Much better, it has below 4% porosity (any fitted glaze will make it water-tight), below 6% fired shrinkage, still very strong. But there are still issues: Accidental overfiring drastically darkens the color. Low-fire commercial glazes may not work at cone 2. How about cone 02? This is a sweet spot. This body has only 6% porosity (compared to the 11% of cone 04). Most low-fire cone 06-04 glazes are still fine at cone 02. And glaze bubble-clouding is minimal. What if you must fire this at cone 04? Pieces will be "sponges" with 11% porosity, shrinking only 2% (for low density, poor strength). There is another advantage of firing as high as possible: Glazes and engobes bond better. As an example of a low-fire transparent base that works fine on this up to cone 2: G1916Q.
Step-by-step how to test and evaluate a new native clay
Tap picture for full size and resolution
"It Starts With a Lump of Clay", a step-by-step Insight-Live.com tutorial (from its help system and the link below) on how to document every step (in an account at insight-live.com) of testing a raw clay. You will learn about drying shrinkage, drying performance, particle size distribution, plasticity, firing shrinkage, fired porosity, fired color, soluble salt content, fired strength, etc. We will not just observe these properties, but measure them. In doing so we will characterize the material. We will answer simple questions about how the material forms, dries and fires across a range of temperatures. In doing the testing I will be generating a lot of data. No single factor is more intimidating to new technicians than what to do with this data, how and where to store it, how it can be searched, learned from, compared.
Testing your own native clays is easier than you think
Tap picture for full size and resolution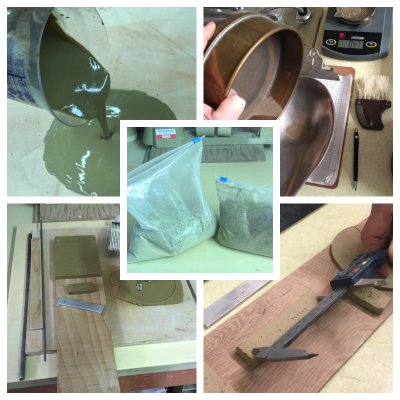 Some simple equipment is all you need. You can do practical tests to characterize a local clay in your own studio or workshop (e.g. our SHAB test, DFAC test, SIEV test, LDW test). You need a gram scale (preferably accurate to 0.01g) and a set of callipers (check Amazon.com). Some metal sieves (search "Tyler Sieves" on Ebay). A stamp to mark samples with code and specimen numbers. A plaster table or slab. A propeller mixer. And, of course, a test kiln. And you need a place to put all the measurement data collected and learn from it (e.g. an account at insight-live.com).
Precrush and assess raw lump clay using a large wooden rolling pin
Tap picture for full size and resolution
These two clays arrived for testing and characterization today. They have lumps up to 1 inch. After making sure the material is completely dry I spread out about 1kg on the concrete floor and then roll it using a large rolling pin. This effectively breaks the lumps. If I just keep rolling the whole mass thins more and more and the lumps get smaller and smaller (making them much easier to slake). Another benefit is that rocks are located, since the rolling pin is unable to break them. Finally, the homogeneity of the material is clearly visible. In these two clays it is clear that the left one is homogeneous, all of the lumps being the same grey material (the right one is looking more like over burden than clay, likely not worthy of further investigation).
Links