No tracking! No ads!
That's why this page loads quickly!
SignUp for Monthly Tech-Tip from Tony Hansen
URL: Fixing a glaze mistakenly made using frit 3134 instead of 3124
Click the link below to go to this page
Related Information
High B2O3 imparts better melt fluidity, but also fewer micro-bubbles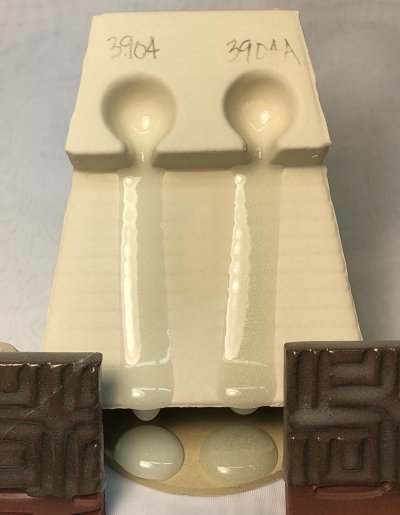 A cone 6 firing. The glaze on the left has a B2O3 molar content of 0.54 whereas the one on the right has 0.64 (other oxide levels are the same). This is triple the typical amount of boron in a cone 6 glaze, the result is obvious: High melt fluidity for both. But G3904A has a significant characteristic that is different: The flow is more transparent because of the lower micro-bubble population. It's melt is less viscous, that enables the bubbles to pass, exit and the surface to heal. Why don't all glazes use more boron? Cost. Frits are expensive and they are the best source of boron. There is also a cost to durability (although mitigated when there is plenty of Al2O3 and SiO2 present, as is the case here). These recipes were part of an interesting project to fix a recipe where the potter mistakenly used Frit 3134 instead of 3124 when mixing a large batch of glaze. I calculated how much kaolin and silica to add to bring the chemistry back into line with the original. This was possible because frit 3134 chemistry is an approximate oxide-subset of 3124. The resultant glaze is potentially better than the original.
---
---

https://digitalfire.com
, All Rights Reserved
Privacy Policy