URL: About Plainsman Clays
Click the link below to go to this page
Related Information
Plainsman dark bodies with Alberta Slip floating blue
Tap picture for full size and resolution
Cone 6 mugs made from Plainsman M350 (left) and M390 dark burning cone 6 bodies. The outside glaze is Alberta-Slip-based GA6-C rutile blue and the inside is GA6-A base (20% frit 3134 and 80% Alberta Slip). That inside glaze is normally glossy transparent amber, but crystallizes to a stunning silky matte when fired using the C6DHSC schedule.
The sun. Brought to you by Plainsman Polar Ice!
Tap picture for full size and resolution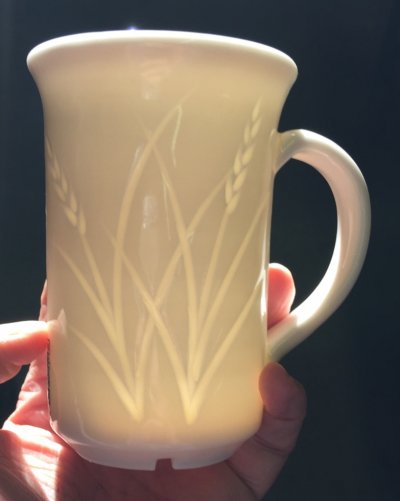 The walls are very thin, yet no trimming was done to make them thin. Why? It is super plastic. Others claim to be plastic, but they use the word in a relative sense. They mean a little less flabby than other flabby porcelains! Polar ice, when it has the right water content (dewater it on a bat if needed), is tough enough to throw as large as even the most plastic stonewares. It might seem impossible that a body this translucent can be as plastic as it is and as stable in the kiln as it is. Want to know it's recipe? Search around on this site and you will find clues in a number of places, put them together, do a little testing, and derive it yourself!
Mel Noble at Plainsman Clay's Ravenscrag, Saskatchewan quarry
Tap picture for full size and resolution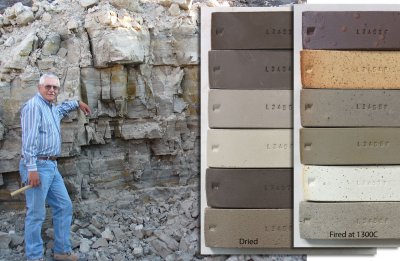 Plainsman Clays extracts 6 different sedimentary clays from this quarry (Mel knows where the layers separate). The dried test bars on the right show them (top to bottom). The range of properties exhibited is astounding. The top-most layer is the most plastic and has the most iron concretion particles (used in our most speckled reduction bodies). The bottom one is the least plastic and most silty (the base for Ravenscrag Slip). The middle two are complete buff stonewares made by mother nature (e.g. M340 and H550). A2, the second one down, is a ball clay (similar to commercial products like OM#4, Bell). A2 is refractory and the base for Plainsman Fireclay. The second from the bottom fires the whitest and is the most refractory (it is the base for H441G).
Links