URL: T.Rex Discovery Centre
Click the link below to go to this page
Related Information
Clay in "dinosaur country" of southern Saskatchewan
This is a "badlands" slope in the Frenchman river valley. The valley exposes the "Whitemud Formation" in many places (clearly visible here half way down on the left). Two surface mines of Plainsman Clays are nearby (over the top and down the other side), in a place where lower-lying rolling hills leave much less over-burden to remove. These materials were laid down as marine sediments during the Cretaceous period. The skeleton of the world's largest T-Rex, dubbed "Scotty", was found 50km east of here (in the layers just above the Whitemuds). Where are the layers of Scotties ancestors from the Jurassic period? Straight down until you hit the bed rock!
These Saskatchewan farmers are growing their crops in M340!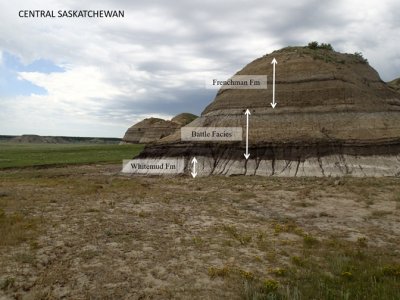 These amazing hills near Big Muddy, Saskatchewan expose the sedimentary layers of the Whitemud formation (and others). The light-colored layer at the bottom is what Plainsman calls A3, it makes up about half of M340. But below ground is the 3B layer, the other half. The dark grey layers above the Whitemuds are what we call A2, a ball clay. Of course, top soil has accumulated on top of the clay to be able to grow plants. Although this is about 250km east of the Plainsman quarry at Eastend, Saskatchewan - the clay layers are remarkably similar. The clay resources in the area are truly astounding, not just in the quantity and quality but also in the magnificent landscape they define.

---
---

https://digitalfire.com
, All Rights Reserved
Privacy Policy