No tracking! No ads!
That's why this page loads quickly!
SignUp for Monthly Tech-Tip from Tony Hansen
URL: Ravenscrag web site
Click the link below to go to this page
Related Information
Chrome tin pinks are easier using a stain than chrome and tin
The Ravenscrag Slip based burgundy glaze on the outside of these mugs is made by fluxing Ravenscrag with 20% Ferro Frit 3134 and adding 10% Mason 6006 burgundy stain (actually these have a little less stain, about 8%). This stain works better than using raw chrome and tin. This glaze functions very well on porcelains and breaks white on the edges to highlight contours.
A cone 10R iron crystal glaze using only Ravenscrag Slip and Iron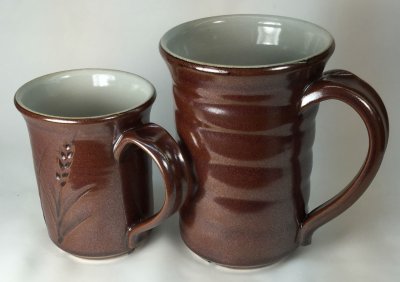 Ravenscrag Slip iron crystal glaze fired at cone 10R on porcelains. The recipe is simply 90% Ravenscrag Slip and 10% iron oxide.
Ravenscrag Iron Crystal
Ravenscrag plus 10% iron oxide on the outside, Ravenscrag Slip plus 10% talc on the inside (GR10-J). Fired at cone 10 reduction.
Links