URL: Plainsman M370
Click the link below to go to this page
Related Information
Humbled by Clive Tucker
Tap picture for full size and resolution
Clive Tucker and me (Tony Hansen) had a throw-off today. I got beat. I have never had to face a thrower as capable as this! He made the higher mug (on the right, we had 520 grams of clay each). It is a privilege to have, not just talented and artistic customers like this, but also technically capable ones like him. The real winner is the M370 clay we used. Even though it was too soft, neither of us had issues with twisting, it wanted to compete as much as we did.
It takes 80 pallets of dry materials to make a run of 4000 boxes of M370
Tap picture for full size and resolution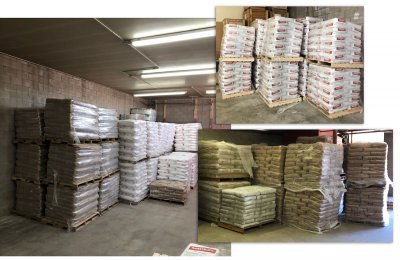 M370 is now our second-most-popular clay body. Are you curious of the recipe? It is really quite simple. It has enough silica to resist crazing. It has enough Nepheline Syenite to mature to 1% porosity at cone 6. The rest is a mix of #6Tile kaolin and M23 ball clay with a little added bentonite to push up plasticity.
Got a Question?
Buy me a coffee and we can talk
---

https://digitalfire.com
, All Rights Reserved
Privacy Policy