URL: G2934Y variations for fired hardness, COE adjustment, less crawling, etc
Click the link below to go to this page
Related Information
Matte cone 6 glazes have identical chemistry but one melts more. Why?
Tap picture for full size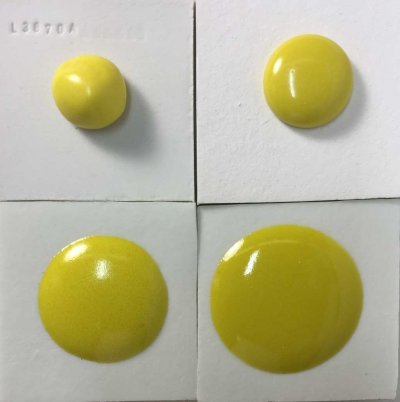 These are 10 gram GBMF test balls that we melted on porcelain tiles at cone 4 (top two) and cone 6 (bottom two). They compare the melt fluidity of G2934 (left) and G2934Y (right). The Y version sources its MgO from frit and talc (rather than dolomite). It is a much more fluid melt because the frit is yielding the oxides more readily. But Y has a key benefit: It has a much lower LOI, producing fewer entrained air bubbles and therefore fewer surface defects. And, even though it runs much more, it has the same matte surface! As long as it is applied at normal thickness, the extra melt fluidity does not cause any running. And it has another benefit: Less cutlery marking issues. It is actually a very durable and practical food surface glaze, having a low thermal expansion that fits almost any body. Although these appear glossy here, on ware they have the identical pleasant silky matte surface.
Melt fluidity differences are not obvious by just comparing glazed ware
Tap picture for full size
These two Plainsman M370 mugs were fired at cone 6, the left one with G2934 matte glaze, the right one with G2934Y4 matte. They look and feel identical in the hand. The two glazes have the same chemistry. But they employ different materials to source that chemistry. The secret of of the matteness is high MgO (magnesia content). In the glaze on the left that MgO is sourced by dolomite, a lot of it. The glaze on the right sources it from a special frit, Ferro 3249. The impact of this difference is visible in the melt flows, the fritted one is obviously melting and flowing better. On other clays, especially stonewares, the G2934 can have a dry surface that cutlery marks. Thicker applications make it worse. But the Y version exhibits no such issues. Its mattness, durability, cleanability and hardness are so good that it is being used in floor tile.
Crawling in G2934Y Zircopax white glaze: Here are some fixes.
Tap picture for full size
G2934Y, a variation of the G2934 base, is a good stain matte base glaze but it is not without issues. It has significant clay content in the recipe and high levels of Al2O3 in the chemistry, these make it susceptible to crawling. This base is normally fine as is but when opacified or certain stains are added (especially at significant percentages) it can crawl. This has 10% Zircopax. Even though the glaze layer thickens at the recess of the handle join it is still crawling. We also get this on the insides of mugs where wall and foot meet at a sharp angle. This was initiated because the glaze cracked here during drying. Normally it would heal but the zircon stiffens the melt, making it less mobile. The easiest solution is to adjust the specific gravity of the glaze to 1.44 and flocculate it to thixotropic, this assures application is not too thick. Another measure is to add a little CMC gum (by replacing some of the water with gum solution). Lastly, use a blend of tin oxide and Zircopax, as in the G3926C version of the recipe, to opacify it.
Links