URL: Insight-Live.com Overview Video
Go to this Web Address
https://digitalfire.com/university/insight-live/overview/Insight-Live%20Overview.html
Related Information
Is this your record keeping system?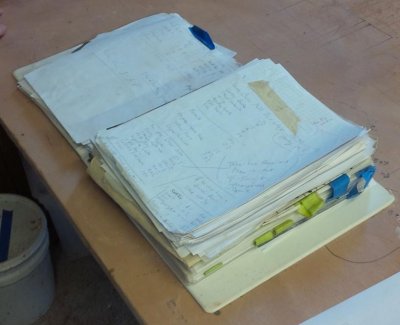 Keeping your valuable notes like this? Recipes? Test results? Are your pictures lost in a cellphone with no keywords or connections to anything? If you test and develop you need to organize in a way that a book cannot do. Like link recipes to each other and other things like pictures and firing schedules. You need to group test recipes in projects, classify them. Calculate chemistry and mix tickets. Research materials. Do keyword searches. Book and binder records do not do this. Your account at Insight-live.com does!
What is the secret to cool and functional clay bodies and glazes?
The secret to cool and functional bodies and glazes is a lot of testing. The secret to know what to test is material and chemistry knowledge. The secret to learning from testing is documentation. The place to document is an account at insight-live.com.
Links