URL: ModPodge clay sealer
Click the link below to go to this page
https://modpodgerocksblog.com/what-is-mod-podge/
A glue, sealer and finish. Different formulas are available for natural, matte, glossy finishes. Use this, as an alternative to silicone, to seal porous clays (e.g. terra cotta) against water absorption. Available at Walmart, Amazon, Michaels, etc.
Related Information
The high porosity of this clay enables sealing against water leakage
Tap picture for full size and resolution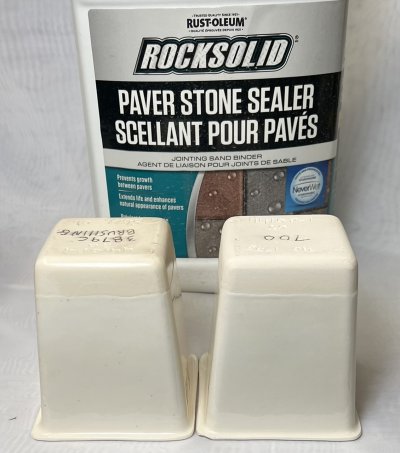 This body has high porosity, almost 25%. It is L4410P, a dolomite-based low-fire whiteware, Plainsman Clays makes this as a product named "Snow". But this high porosity has some advantages, one of them is that it soaks up silicone sealer well. The slip-cast piece on the left was sealed (you can see the surface sheen) and it is impermeable to water penetration (the glaze is not crazed so water cannot penetrate there either). The piece on the right soaks up water readily (on the lower unglazed portion). Sealing this specific body is doubly important because the dolomite particles within can rehydrate over time, especially in damp climates, causing pieces to crack. Even the foot rings of functional pieces should be sealed, not just to prevent hydration but also waterlogging.
Terra Sigilatta surface on a dolomite white earthenware
Tap picture for full size and resolution
The clay is Plainsman Snow fired at cone 04. August 2022 by Nina Berinstein. Very thin and light pieces can be made without danger of warping during firing (because this clay as zero fired shrinkage). This piece was treated with Mod Podge, this has sealed it against water penetration and not affected the appearance or texture.
Mod Podge clay sealer
Tap picture for full size and resolution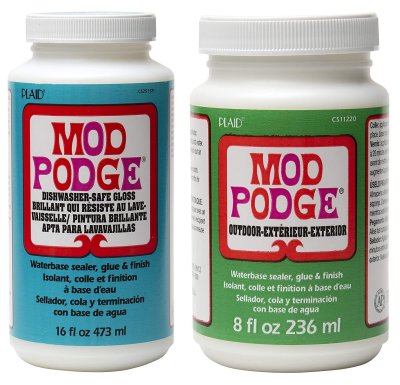 Available at Walmart, Amazon, Michaels and others. It is water-based and non-toxic. There are many kinds, one is "dishwasher safe" and another is for outdoor use. It dries to a hard finish. This makes it potentially useful to seal porous ceramic such as terra cotta and dolomite or talc white-burning bodies, even functional ware.
Got a Question?
Buy me a coffee and we can talk
---

https://digitalfire.com
, All Rights Reserved
Privacy Policy