Articles
How to Find and Test Your Own Native Clays
Some of the key tests needed to really understand what a clay is and what it can be used for can be done with inexpensive equipment and simple procedures. These practical tests can give you a better picture than a data sheet full of numbers.
Articles
Particle Size Distribution of Ceramic Powders
Understanding the theory behind sieve selection, how to properly sample a powder and how to carry out a particle size distribution test can give you valuable information about a material.
Articles
Chemistry vs. Matrix Blending to Create Glazes from Native Materials
Is it better to do trial and error line and matrix blending of materials to formulate your glazes or is it better to use glaze chemistry?
Glossary
Ceramic Material
Ceramic materials are employed in the ceramic industry to make glazes, bodies, engobes and refractories. We study them at the mineral, chemical and physical levels.
Glossary
Theoretical Material
In glaze chemistry, theoretical materials are used to represent what a material would be if it was uncontaminated and perfectly crystallized
Glossary
Physical Testing
In ceramics, glazes and bodies have a chemistry, a mineralogy and a physical presence. All of these need to be understood to adjust and fix issues.
Materials
Kaolin
Media
How to Add Materials to the Desktop Insight MDT
There are four ways to do it. Copy and paste XML, type in the formula, enter an analysis as a recipe, handle the MDT as a CSV file in Excel.
Media
Desktop Insight 4 - Add a Native Material to MDT, Build a Glaze
Learn to add a native volcanic ash to the INSIGHT materials database (MDT) and then create a glaze from it maximizing its percentage. Learn to impose an LOI on a material and why this method is better than line blending.
Hazards
Overview of Material Safety by Gavin Stairs
Lab testing a clay for its physical properties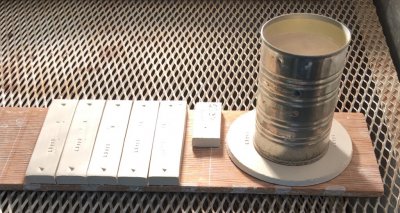 SHAB test bars, an LDW tester for water content and a DFAC test disk about to be put into a drier. The SHAB (shrinkage-absorption) bars shrink during drying and firing, the length is measured at each stage. The LDW sample is weighed wet, dry and fired. The can prevents the inner portion of the DFAC disk from drying and this sets up stresses that cause it to crack. The nature of the cracking pattern and its magnitude are recorded as a Drying Factor. The numbers from all of these measurements are recorded in my account at Insight-live. It can present a complete physical properties report that calculates things like drying shrinkage, firing shrinkage, water content and LOI from these measured values.
Refined 200 mesh materials are not guaranteed to be such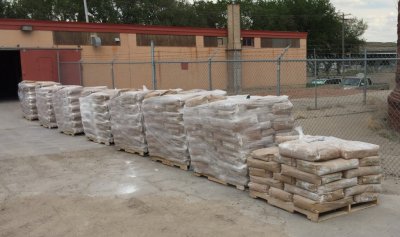 Each of these eight pallets of kaolin are being sampled to screen them for oversize particles. The 50 gram samples needed can be taken without having to open the bags, they are filled through a valve at the top and it can be opened easily. Kaolins and ball clays especially are suspect and body manufacturers must be vigilant about this (each can tell you disaster stories about making product with faulty raw materials containing grit, carbon and iron particles). The samples will be washed through 70, 100 and 150 mesh screens to spot any particles that could introduce grit or fired speckle into the bodies.
Do not rely on material data sheets, do the testing
The cone 6 porcelain on the left uses Grolleg kaolin, the right uses Tile #6 kaolin. The Grolleg body needs 5-10% less feldspar to vitrify it to zero porosity. It thus contains more kaolin, yet it fires significantly whiter. Theoretically this seems simple. Tile #6 contains alot more iron than Grolleg. Wrong! According to the data sheets, Grolleg has the more iron of the two. Why does it always fire whiter? I actually do not know. But the point is, do not rely totally on numbers on data sheets, do the testing yourself.
When both mineralogy and chemistry are shown on a data sheet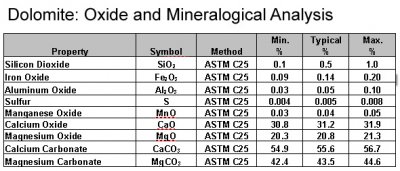 Some material data sheets show both the oxide and mineralogical analyses. Dolomite, for example, is composed of calcium carbonate and magnesium carbonate minerals, these can be separated mechanically. Although this material participates in the glaze melt to source the MgO and CaO (which are oxides), it's mineralogy (the calcium and magnesium carbonates) specifically accounts for the unique way it decomposes and melts.
Lignite contamination in manufactured porcelain bodies
These particles contaminating particles are exposed on the rim of a bisque fired mug. The liqnite ones have burned away but the iron particle is still there (and will produce a speck in the glaze). Remnants of the lignite remain inside the matrix and can pinhole glazes. Since ball clays are air floated (a stream of air takes away the lighter particles and the heavier ones recycle for regrinding) it seems that contamination like this would be impossible. But the equipment requires vigilance for correct operation, especially when there is pressure to maximize production. Ores in Tennessee are higher in coal than those in Kentucky. North American clay body manufacturers who confront ball clay suppliers with this contamination find that ceramic applications have become a very small part of the total ball clay market, complaints are not taken with the same seriousness as in the past.
By Tony Hansen

---
---


https://digitalfire.com, All Rights Reserved
Privacy Policy