Ceramic Decals
This process of printing a design (using ceramic inks) onto film-coated paper to create a waterslide transfer. On wetting, the film decal can slide off the backing on to the glazed ware.
Details
A method of printing designs (using ceramic inks) onto a transparent film, then transferring that to glazed ware (most commonly known as waterslide transfers). The film has a glue that holds it to a heavy opaque paper backing coated with a glossy release layer. On wetting (for the correct amount of time), the glue loosens and enables the transfer. As the decal dries on the ware the glue holds it in place. When fired, the very thin film backing material burns away leaving the ink to bond with the glaze surface. The film can accommodate quite a bit of irregularity in the contours of the surface.

Making these inks and silk screening the decals is typically beyond the ability of small manufacturers or potters (the inks used in decals service around cone 022, the know-how to formulate compounds that melt that low is not common). However, decals can be printed directly in an inkjet printer (fitted with ceramic ink cartridges), a laser printer (fitted with ceramic toner) or by silk screening (the latter transitioning to the former in recent years). These new technologies have many obvious advantages, and, some disadvantages. It goes without saying that complicated printer hardware, especially if it has been adapted to inks or toners made using ceramic powder, will have issues. The troublesome nature of running this equipment, and the expensive supplies, is the reason why decals from online service providers, are so expensive.

Some manufacturers of traditional ink formulations, mediums, silk screening, and ceramic waterslide decals have gone out of business in recent years and this has caused problems with companies who depend on them. Their formulations were lost in the process, notwithstanding that the silk screen decal process is still very useful. Are you an engineer who knows about these formulations. Would you be will to share these with us so we can help others? Please contact us.

The inks and toner powders are specialized formulations of nano-powdered frit (bismuth based) and stains, they form a glassy color at very low temperatures. However, since the designs are on the glaze surface, they must endure the full forces of wear and tear to which the piece is exposed. Since these inks do not contain the stable silicates that a glaze does (because they need to melt so low), they are more subject to abrasion and degradation. Decal firings only go to around 1600F and the underlying glaze usually does not melt enough to bleed their edges. This stable surface enables great precision of design, full color photos can thus be produced. That being said, the colors are not as accurate as regular print, only a subset of the CMYK color set can be printed (and even an smaller subset of the RGB colorset used on video monitors).

Firing decals on large pieces can put you on a collision course with ware cracking - resulting from stresses in passing up or down too fast through quartz or cristobalite inversions. It is a necessity to have a programable kiln controller to slow down through these periods.

There is a serious issue to think about if you are planning to introduce decals into your production, decal-printing websites seldom even mention this. Many glazes are reactive fluid melters (high boron, zinc, lithium) and begin to soften at decal temperatures. These will often form pits, pinholes or even blisters during the firing-on of the decal, ruining the piece. The higher you fire the ware originally and the later the glaze melts, the less likely this problem will be. Even if it does not melt, the glaze may have a visual character (color or surface texture) that is a product of crystallization during cooling, these crystals could easy be affected during a decal firing. Thus, low fire glazes will, of course, be most susceptible to this. Mid-temperature glazes having the lowest possible B2O3 content, yet still melting enough, will be more likely to work. Cone 10 ware will be even better/ Fast fire glazes melt late and will thus work the best.

There is another simpler transfer method for underglaze, it is commonly called "tissue transfer": Water based colorants are silk screened on to rice or tissue paper, dried, then the paper is applied, color-side-down, to a leather hard clay surface. Using a rib the paper is rubbed down and after a minute it is peeled up to reveal the transfer. Designs can also be transferred to dry or bisque ware by wetting the paper from the back while rubbing it down, then carefully peeling it away. Of course, if ware is going to be glazed the pigment must be designed as an underglaze.
Related Information
Decal on a raw body surface
Fired in a standard decal firing. The glaze on the tile has helped fuse it to a glossy surface. Has worked well except for adhesion problems during application (because the porous body adsorbed all the water immediately). If the tile had been soaked previously it would have been better.
Can a decal firing melt a glaze? Yes!
Typical zero-boron high temperature glazes will not soften in a 1500F decal firing. But low temperature glazes will (especially those high in boron). Even middle temperature ones can soften. G3806C, for example, is reactive and fluid, it certainly will. Even G2926B, which has high Al2O3 and SiO2, has enough boron to soften and sometimes create tiny pits. In serious cases they can bubble like the mug on the right. Why? Steam. It was in use and had been absorbing water in the months since it was first glaze fired at cone 03. The one on the left was not used, but it did have some time to absorb water from the air, it is showing tiny pits in the surface. Even if moisture is not present, low fire bodies especially may still have some gases of decomposition to affect the glaze. One more thing: Fire the decals at the recommended temperature, often cone 022.
Why has this platter has cracked in half during a decal firing?
Your ware is fairly thick. It was already vitrified in a previous firing. It now must climb and fall through quartz and cristobalite inversions during a decal firing. The firing schedule provided by the decal supplier ramps up very quickly. The result? A cracked piece.
Why did this piece came out of a decal firing crazed?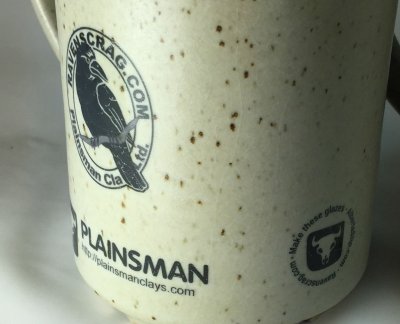 This Cone 10 matte mug has been refired to attach decals. During the refire the Quartz-containing body passed up through quartz and cristobalite inversions while the glaze did not (all of its quartz was converted to silicates during the previous glaze firing). The sudden expansion in these two zones stretched the glaze and cracked it. Had that glaze been better fitted (under some compression) it would have been able to survive.
What is that glossy square around the decal?
An example of a digital decal that has been fired at 1500F onto a matte cone 6 glaze. Notice the glossy, square around the graphic. This is where the decal paper was cut prior to transfer. This glossy layer appears by design, the decal paper has a thin layer of glaze and your inkjet design is printed, reverse reading, onto that. After transfer and firing that glaze thus insulates the color from coming into contact with anything that might leach it. It is thus wise to trim carefully around designs such that the glossy pattern does not detract from the appearance (as it does here). You can get decals without the glaze covering, but may not melt enough to be durable on the glaze surface.
Links
Glossary
Silk screen printing
Silk screen printing is one of the best options for hobbyists and potters to reproduce crisp and detailed decoration for their ware. But there are many details to know.
Glossary
Quartz Inversion
In ceramics, this refers to the sudden volume change in crystalline quartz particles experience as they pass up and down through 573C. Fired cracks are often related to this.
Glossary
Cristobalite Inversion
In ceramics, cristobalite is a form (polymorph) of silica. During firing quartz particles in porcelain can convert to cristobalite. This has implications on the thermal expansion of the fired matrix.
Glossary
Ink Jet Printing
Ink jet printed decoration is now pervasive in all parts of the ceramic industry. And in hobby also.
Glossary
Ceramic Ink
You can make your own ink (or buy it) and apply it to ware using various methods (e.g. rubber stamping, silk screen, inkjet decals).
URLs
https://ezscreenprint.com
EZScreen Silk Screen kits
Their method enables printing on to stencils (using an inkjet printer) and sunlight-exposing the clear film on to pre-emulsified stencils.
URLs
https://ceramicartsnetwork.org/shop/ceramic-transfer-printing/
Ceramic Transfer Printing
Book on how to formulate colors and print on to water slide transfer paper.
URLs
https://cerprint.com/
Ceramic laser printers and toner cartridges
As of 2021 these printers are now available for less than $1000. Cartridges are $500 for each color.
By Tony Hansen

---
---


https://digitalfire.com, All Rights Reserved
Privacy Policy