Zero3
The designation for a group recipes for body, glaze and engobe (by Tony Hansen), that potters can use to make low fire stoneware and porcelain
Details
The term "Zero3" was coined by Tony Hansen. It refers to recipes he developed at Plainsman Clays that enable a potter to create red burning stoneware and blue-white porcelain at cone 03 (links to recipes at the bottom of this page). He arrived at cone 03 after a long testing program that attempted to make the system work and be economical at cone 04. The one extra cone (04 to 03) made such a difference in moving the system toward stoneware-like properties while keeping the frit percentage to a minimum that he adopted it. You can find the recipes and mixing information in the URL-links links below.

The secrets on why the system (the group of recipes) functions well:

-The porcelain and red earthenware body recipes incorporate a sodium frit to make them vitreous (for the red body, only 5% is needed, 20% for the white).

-The glazes employ common Ferro frits (four of them), the rationale for their recipes and chemistries are meticulously explained.

-Three clear glaze recipes were initially given (L, K, H), having thermal expansions that span a broad range. They are shown side-by-side (with chemistry). Users can blend these to get a good fit. Then can further develop them in their insight-live.com accounts. More recently the G3879 recipe is show great promise.

-The firing schedule employs a drop-and-hold to ensure cloud-free transparent results.

-The porcelain Zero3 body employs a blue stain to make it look like a cone 10R porcelain.

-The engobes are well explained and tested. The page explaining them is the first online coverage of how to develop an engobe and the importance of fitting it well to a specific body.

-The system is well tested using commercial underglazes (which show through the clear to produce brilliant effects). It is well represented in an image search on google.

-The development project is ongoing and much of it exists as a share from the Plainsman Clays account on insight-live.com. That means whenever a change or addition is made to the testing records, it updates online automatically.

The recipes use common ingredients in North America and enable the potter to mix his own body, glaze and engobe.
Related Information
Zero3 casting porcelain at cone 04, 03
Compared to a typical cone 6 porcelain, left, which has zero translucency, these are fired 10 cones lower. I am using the G3879 clear glaze and it is working very well.
Casting Zero3 Porcelain
Look at how translucent this is! I can fire one of these in three hours, cold-to-cold. I am casting them with molds made using the 3D-printing process. Anyone could do this. Incredibly exciting. And with the G3879 glaze it looks awesome, just like bone china. Notwithstanding this, the Zero3 recipe has to be altered for casting. Initially I have reduced the VeeGum to 1% but it is still casting too slow. And it is not shrinking enough to pull away from the mold well. I am considering strategies on how to increase drying shrinkage and am going to add more frit to take it down to cone 04.
Low fire stoneware, Zero3 body, with clear glaze
Zero3 stoneware with G2931K clear glaze. The mug on right has Zero3 L3685U engobe under the glaze (on the inside).
Can a cone 03 porcelain be better than a cone 10R one? Yes!
Want to make this incredible porcelain and glaze yourself? Read on. The mug on the left is a cone 10R (2350F/1290C) porcelain (#6 Tile kaolin and Nepheline Syenite) with G1947U clear glaze. The other is a fritted cone 03 (1950F or 1065C) porcelain (NZ Kaolin, Ferro Frit 3110) with G2931K clear glaze. We call the body/glaze/firing system "Zero3" (google it or use the links here). The Zero3 porcelain is blue-white instead of grey, the glaze is crystal clear, underglaze colors are so much more vibrant. The Zero3 mug was fired in 3 hours (cold-to-cold). It also withstands thermal shock better, it is as strong or stronger and much more translucent. How is this possible? The magic of the frit, it melts so much better than nepheline. The recipes and method are linked here. It is the most expensive body you will ever make. But from it you will create the highest quality ware you have ever made using the most plastic body you have ever thrown! Follow the instructions carefully.
Low fire nirvana: Use commercial underglazes but make your own clear over glaze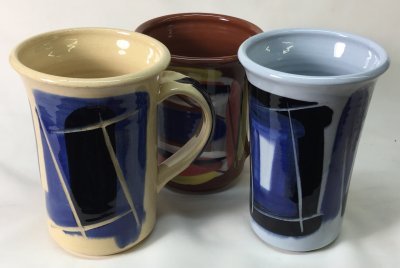 Decorate ware with the underglazes at the leather hard stage, dry and bisque fire it and then dip-glaze in a transparent that you make yourself (and thus control). These mugs are fired at cone 03. All have the same transparent glaze (G2931K), all were decorated with the same underglazes. Notice how bright the colors are compared to middle or high temperature. On the left is a porous talc/stoneware blend (Plainsman L212), rear is a fritted Zero3 stoneware and right is Zero3 fritted porcelain. When mixed properly you can dip ware in this glaze and it covers evenly, does not drip and dries enough to handle in seconds! Follow the Zero3 firing schedule and you will have ware of amazing quality.
Redart fired bars vs. Plainsman Blue Grey Plastic
The Redart clay bars (left) are fired at cones 06, 04, 2, 4 & 5 (top to bottom). The Plainsman Blue Grey Plastic bars (right) are fired at 06, 04, 03, 02, 2 & 4. The SHAB test procedure (used to make these) gives us the firing shrinkage and porosity at each temperature, these are direct indicators of the fired maturity. Notice how much the fired color changes with increasing temperature. The fired maturity is pretty similar but the BGP is a little browner in color. It is also much more plastic (the drying shrinkage quite a bit higher).
Three low fire bodies need three different clear glazes. Why?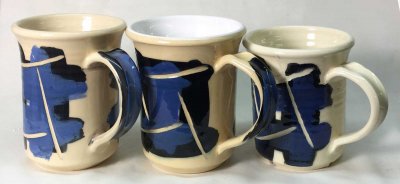 Glaze fit. The left-most clay mug contains no talc (Plainsman Buffstone), the centre one about 25% talc (L212) and the right one is about 45% talc (L213). Talc raises thermal expansion. The centre glaze is G2931K, it is middle-of-the-road thermal expansion (Insight-live reports it as 7.4) and fits the low-talc bodies (and Zero3 porcelain and stoneware). But it crazes on Buffstone and shivers on L213. The lesson is: Forget about expecting one clear or base glaze to fit all low fire bodies. But there is a solution. I adjusted it to reduce its expansion to work on zero-talc porous bodies and raise it to work on high talc bodies. How? By decreasing and increasing the KNaO (in relation to other fluxes). The three fire crystal clear and work the best in a drop-and-hold firing.
G2931K Zero3 transparent glaze on Zero3 Fritware Porcelain
This is an all-fritted version of G2931F Zero3 transparent glaze. I formulated this glaze by calculating what mix of frits must be employed to supply the same chemistry of the G2931F recipe. The mug is made from the Zero3 porcelain body (fired at cone 03) with this glaze. This glaze fits both the porcelain and the Zero3 terra cotta stoneware. The clarity, gloss, fit and durability of this glaze are outstanding.
Which is stronger: Cone 10R mug or cone 03 mug?
The mug on the left is high temperature Plainsman P700 (Grolleg porcelain). The other is Plainsman Zero3 fired at cone 03. Zero3 has a secret: Added frit which reduces the porosity of the terra cotta base (therefore increasing the density) dramatically. How? The frit melts easily at cone 03 and fills the interparticle space with glass, that glass bonds everything together securely as the piece cools. Although I do not have strength testing equipment right now, I would say that although the P700 mug likely has a harder surface, the Zero3 one is less brittle and more difficult to break.
Porcelain mug put into kiln at 8:45am, drinking coffee from it at 12:15! How?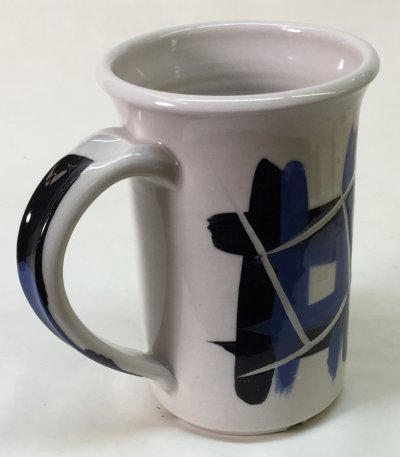 One way to fast-fire is to fire a lot lower. This is Zero3 porcelain made using Dragonite Halloysite (not quite as white-burning as New Zealand Halloysite). It is the L2934C recipe. It was fired to cone 03 and glazed with G2931K clear glaze (which has fired crystal clear and flawless). I fired at 1200F/hr to 1950F, held it for 15 minutes, cooled at 999F/hr to 1850F and held it for 30 minutes, then dropped as fast as the kiln would do. Is this really porcelain? Yes. And it is super strong. The frit in the recipe is magic, making it vitrify quickly and completely.
Links