Digitalfire Insight materials dialog window
Desktop Insight remembers materials (in its database) as formulas and their formula weights. From this it can calculate the LOI. Materials can have alternate names so they are more likely to be found in calculating recipes. This dialog provides tools for adding, editing, deleting, importing and exporting materials.
Desktop INSIGHT MDT dialog showing kaolin LOI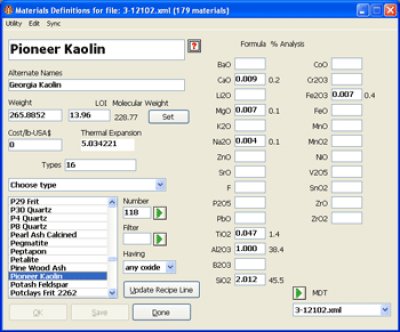 The LOI appears below the material name and alternative names (beside the weight). The formula that goes with that LOI is the bold numbers in the blanks beside the oxide names on the right.
Related Information
Links