Oil-spot glaze
A mottled glaze created by double-layering glazes of different melt fluidity and color
Details
Officially, the oil-spot variegation effect appears to be the product of the release of gases of decomposition associated with an iron oxide phase change near the climax of a high temperature (cone 8+) firing cycle. The effect appears to be accompanied by the precipitation and crystallization of iron during cooling.

However the oil-spot effect could theoretically be created at any temperature with any color if a decomposition process exists for one of the materials present (or an interaction). The bubbles could be employed to deliver a contrasting color from an underlying glaze layer. Another glaze double-layering method is to employ melts of different fluidity (and contrasting colors). Typically the base glaze is melt-fluid and the over glaze is a lighter non-fluid glaze (typically a matte). The under glaze breaks through and isolates islands of the upper glaze to create the effect. Vertical and horizontal surfaces display the effect differently. The relative thickness of the glazes can be tuned to optimize the aesthetic. More subtle effects can be created by using glazes of the same color but different surface character. With this mechanism it appears logical to tune the chemistry of the overglaze to have a higher surface tension that the lower one.

In our experimentation we have found that tin oxide, in higher percentages (e.g. 6%), bubbles a high-surface-tension base transparent (high SrO content). Thus, over a black, the surface activity created by the bubbling creates a variegated pattern and texture of black and white.
Related Information
Ravenscrag oatmeal layered over black at cone 6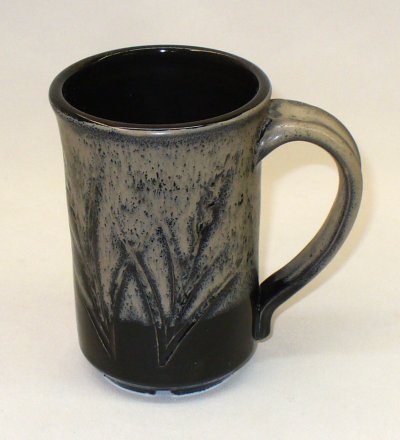 This is GR6-H Ravenscrag oatmeal over G1214M black on porcelain at cone 6 oxidation to create an oil-spot effect. Both were dipped quickly. You can find more detail at ravenscrag.com.
Variegation gone too far!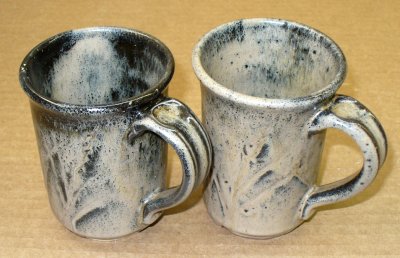 This is Ravenscrag Slip Oatmeal over a 5% Mason 6666 stained glossy clear at cone 6. You have to be careful not to get the overglaze on too thick, I did a complete dip using dipping tongs, maybe 2 seconds. Have to get it thinner so a quick upside-down plunge glazing only the outside is the the best way I think. You may have to use a calcined:raw mix of Ravenscrag for this double layer effect to work without cracking on drying.
Links