3D Design |
3D Printer |
3D Slicer |
3D-Printed Clay |
3D-Printing |
Abrasion Ceramics |
Acidic Oxides |
Agglomeration |
Alkali |
Alkaline Earths |
Amorphous |
Analysis |
Apparent porosity |
Bacteria, Mold on Clay |
Ball milling |
Bamboo Glaze |
Base Glaze |
Base-Coat Dipping Glazes |
Basic Oxides |
Batch Recipe |
Binder |
Bisque, bisquit firing |
Bit Image |
Black Coring |
Bleeding colors |
Blisters |
Bloating |
Blunging |
Bone China |
Borate |
Boron Blue |
Boron Frit |
Borosilicate |
Breaking Glaze |
Brushing Glazes |
Buff stoneware |
Calcination |
Calculated Thermal Expansion |
Candling |
Carbon Burnout |
Carbon trap glazes |
CAS Numbers |
Casting-Jiggering |
Celadon Glaze |
Ceramic |
Ceramic Decals |
Ceramic Glaze |
Ceramic Ink |
Ceramic Material |
Ceramic Oxide |
Ceramic Slip |
Ceramic Tile |
Ceramics |
Characterization |
Chromaticity |
Clay |
Clay body |
Clay Body Porosity |
Clay Stiffness |
Co-efficient of Thermal Expansion |
Code Numbering |
Coil pottery |
Colloid |
Colorant |
Cone plaque |
Copper Red |
Cordierite Ceramics |
Corning Ware, Pyroceramics, Pyrex |
Crackle glaze |
Crank, plate setter |
Crawling |
Crazing |
Cristobalite |
Cristobalite Inversion |
Crucible |
Crystalline glazes |
Crystallization |
Cuerda Seca |
Cutlery Marking |
De-Airing Pugmill |
Decomposition |
Deflocculation |
Deoxylidration |
Digitalfire Foresight |
Digitalfire Insight |
Digitalfire Insight-Live |
Dimpled glaze |
Dimpling, Orange Peel |
Dip Glazing |
Dipping Glazes |
Dishwasher Safe |
Dolomite Matte |
Drop-and-Soak Firing |
Drying Crack |
Drying Performance |
Drying Shrinkage |
Dunting |
Dust Pressing |
Earthenware |
Efflorescence |
Encapsulated Stains |
Engobe |
Eutectic |
Fast Fire Glazes |
Fat Glaze |
Feldspar Glazes |
Firebrick |
Fireclay |
Fired Strength |
Firing |
Firing Schedule |
Firing Shrinkage |
Flameware |
Flashing |
Flocculation |
Fluid Melt Glazes |
Flux |
Food Safe |
Foot Ring |
Forming Method |
Formula |
Formula Ratios |
Formula Weight |
Frit |
Fritware |
Functional |
GHS Safety Data Sheets |
Glass vs. Crystalline |
Glass-Ceramic Glazes |
Glaze Bubbles |
Glaze Chemistry |
Glaze Compression |
Glaze Durability |
Glaze fit |
Glaze Gelling |
Glaze Layering |
Glaze Mixing |
Glaze Recipes |
Glaze Shrinkage |
Glaze thickness |
Globally Harmonized Data Sheets |
Glossy Glaze |
Green Strength |
Grog |
Gunmetal glaze |
Handles |
High Temperature Glaze |
Hot Pressing |
Incised decoration |
Ink Jet Printing |
Inside-only Glazing |
Interface |
Iron Red Glaze |
Jasper Ware |
Jiggering |
Kaki |
Kiln Controller |
Kiln fumes |
Kiln venting system |
Kiln Wash |
Laminations |
Leaching |
Lead in Ceramic Glazes |
Leather hard |
Lime Popping |
Limit Recipe |
Liner Glaze |
LOI |
Low Temperature Glaze Recipes |
Lustre Colors |
Majolica |
Marbling |
Material Substitution |
Matte Glaze |
Maturity |
MDT |
Mechanism |
Medium Temperature Glaze |
Melt Fluidity |
Melting Temperature |
Metallic Glazes |
Microwave Safe |
Mineralogy |
Mocha glazes |
Mole% |
Monocottura, Monoporosa |
Mosaic Tile |
Mottled |
Mullite Crystals |
Non Oxide Ceramics |
Normalization |
Oil-spot glaze |
Once fire glazing |
Opacifier, Opacification |
Opacity |
Orton Cones |
Ovenware |
Overglaze |
Oxidation Firing |
Oxide Interaction |
Oxide System |
Particle orientation |
Particle Size Distribution |
PCE |
Permeability |
Phase Diagram |
Phase Separation |
Phase, phase changes |
Physical Testing |
Pinholing |
Plasticine |
Plasticity |
Plucking |
Porcelain |
Pour Glazing |
Precipitation |
|
Primitive Firing |
Production Setup |
Propane |
Propeller Mixer |
Pyroceramics |
Quartz Inversion |
Raku |
Reactive Glazes |
Reduction Firing |
Reduction Speckle |
Refractory |
Refractory Ceramic Coatings |
Representative Sample |
Respirable Crystalline Silica |
Rheology |
Rutile Glaze |
Salt, soda firing |
Sanitary ware |
Sculpture |
Secondary Clay |
Shino Glazes |
Shivering |
Sieve |
Silica:Alumina Ratio (SiO2:Al2O3) |
Silk screen printing |
Sinter, sintering |
Slake, Slaking |
Slip Casting |
Slip Trailing |
Soaking |
Soluble Colors, Sulfate Colors |
Soluble Salts |
Specific gravity |
Splitting |
Spray Glazing |
Stain |
Stoneware |
Stull Chart |
Sulfate Scum |
Sulfates, Sulphates |
Surface Area |
Surface Tension |
Suspension |
Tapper Clay |
Target Formula, Limit Formula |
Tenmoku |
Terra cotta |
Terra Sigilatta |
Theoretical Material |
Thermal Conductivity |
Thermal shock |
Thermocouple, pyrometer |
Thixotropy |
Tony Hansen |
Toxicity |
Tranlucency |
Translucency |
Transparent Glazes |
Triaxial Glaze Blending |
Ultimate Particles |
Underglaze |
Unity Formula |
Upwork |
Vaporization |
Viscosity |
Vitrification |
Volatiles |
Warping |
Water in Ceramics |
Water Smoking |
Water Solubility |
Wedging, kneading |
Wheel Bat |
Whiteware |
Wood Ash Glaze |
Wood Firing |
Zero3 |
Zeta Potential
Primary Clay
Kaolinite is the closest thing we have to pure clay mineral. Clays that have been deposited at or near their site of alteration. They typically are contaminated by rocks and mineral particles that must be removed by processing. The cleanest and lowest iron clays are from this type of deposit. Kaolins are primary clays.
Ball clay and kaolin test bars side-by-side fired from cone 9-11 oxidation and 10 reduction.
A Grolleg based cone 10R porcelain (left) vs. 25-Porcelain
25 Porcelain refers to a recipe of about 25% each of ball clay, kaolin, feldspar and silica. In this case the 25-porcelain employs Tile #6 kaolin and a Kentucky ball clay. Both of them contain raw bentonite to augment the plasticity and both have about 50% clay in the recipe. The Grolleg body requires more bentonite to achieve the same plasticity. In spite of the fact that the raw bentonite has a high iron content and it darkens the color, the Grolleg porcelain is still much whiter firing.
Fired color of a New Zealand based porcelain compared to other bodies

The whitest test bar here is a New-Zealand-kaolin-based cone 6 porcelain (employs VeeGum for plasticity). Immediately to the left of it are three North American-koalin-based bodies using standard bentonites. The bar to is right in a Grolleg based body that uses a standard bentonite rather than a white burning one. All are plastic.
The white one feels smoother, but it is actually far coarser. Why?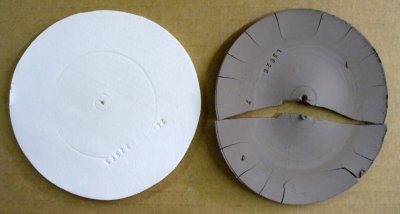 Large particle kaolin (left) and small-particle ball clay (right) DFAC tests (for drying performance) demonstrate the dramatic difference in drying shrinkage and performance between these two extremes (these disks are dried with the center portion covered to set up a water content differential to add stresses that cause cracking). These materials both feel super-smooth, in fact, the white one feels smoother. But the ultimate particles tell the opposite story. The ball clay particles (grey clay) are far smaller (ten times or more). The particles of the kaolin (white) are flatter and lay down as such, that is why it feels smoother.
Links
Minerals
Kaolinite
Glossary
Secondary Clay
Clays form by the weathering of rock deposits over long periods. Primary clays are found near the site of alteration. Secondary clays are transported by water and laid down in layers.
By Tony Hansen

---


Copyright 2008, 2015, 2017 https://digitalfire.com, All Rights Reserved