Primary Clay
Kaolinite is the closest thing we have to pure clay mineral. Clays that have been deposited at or near their site of alteration. They typically are contaminated by rocks and mineral particles that must be removed by processing. The cleanest and lowest iron clays are from this type of deposit. Kaolins are primary clays.
Related Information
Ball clay and kaolin test bars side-by-side fired from cone 9-11 oxidation and 10 reduction.
A Grolleg based cone 10R porcelain (left) vs. 25-Porcelain
25 Porcelain refers to a recipe of about 25% each of ball clay, kaolin, feldspar and silica. In this case the 25-porcelain employs Tile #6 kaolin and a Kentucky ball clay. Both of them contain raw bentonite to augment the plasticity and both have about 50% clay in the recipe. The Grolleg body requires more bentonite to achieve the same plasticity. In spite of the fact that the raw bentonite has a high iron content and it darkens the color, the Grolleg porcelain is still much whiter firing.
Guess which of these fired clays employs New Zealand kaolin

The whitest test bar here is a New-Zealand-kaolin-based cone 6 porcelain (NZK). NZK has low plasticity, so this body employs VeeGum to improve it. Immediately to the left of it are three North American-koalin-based bodies using standard bentonites. The bar to its right is a Grolleg-based body that uses a standard bentonite rather than a white burning one. All are plastic.
The white one feels smoother, but it is actually far coarser. Why?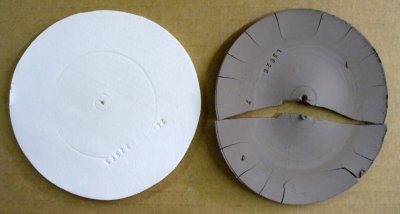 Large particle kaolin (left) and small-particle ball clay (right) DFAC tests (for drying performance) demonstrate the dramatic difference in drying shrinkage and performance between these two extremes (these disks are dried with the center portion covered to set up a water content differential to add stresses that cause cracking). These materials both feel super-smooth, in fact, the white one feels smoother. But the ultimate particles tell the opposite story. The ball clay particles (grey clay) are far smaller (ten times or more). The particles of the kaolin (white) are flatter and lay down as such, that is why it feels smoother.
Links
Minerals
Kaolinite
Glossary
Secondary Clay
Clays form by the weathering of rock deposits over long periods. Primary clays are found near the site of alteration. Secondary clays are transported by water and laid down in layers.
By Tony Hansen

---
---


https://digitalfire.com, All Rights Reserved
Privacy Policy